Turbax Conversion Kit w/ HK4035-800
[Turbax_Conversion_Kit]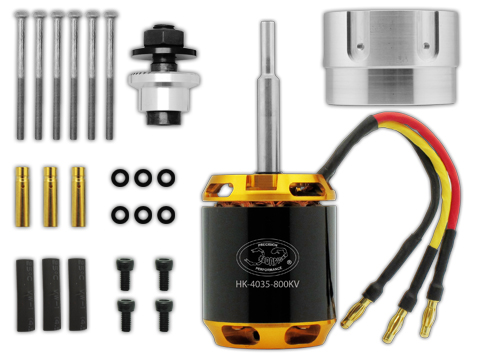 Sorry, this product is currently out of stock and can not be ordered.
Product Description
Electric powered ducted fan models are becoming very common now, and for many years, the Turbax Fan has been a very popular model for powering a variety of jet kits. Due to the fact that there are many models already built that contain Turbax fans, as well as many other models that can use this power system, Scorpion has developed an Electric Conversion Kit for this fan unit. The new Turbax Electric Conversion Kit consists of a custom version of the Scorpion HK-4035-800 motor, connected to a CNC machined aluminum Motor Mount and Stator Vane support. This assembly is designed to be a direct bolt in replacement for the stock glow engine motor mount, and allows for easy conversion of either new or existing power systems from Glow to Electric power.
The special version of the HK-4035-800 motor includes an extended 8mm motor shaft that is precision ground to a 5mm diameter at the end, to mate up with the stock Turbax Fan Impeller. The CNC machined Stator Vane Support has 6 pockets around the perimeter with threaded holes to allow the stock stator vanes to be bolted in place with no modifications. Once installed, this powerful Electric Conversion Kit can provide up to double the thrust, compared to the stock glow set-up with a .46 size engine, and can breathe new life into existing models that were a bit underpowered with the stock glow motor power systems.
With the stock 5-blade Turbax impeller fan, the Scorpion Electric Conversion Kit can be run on either 10 or 12 Li-Po cells, depending on the desired power output level. Running on 10 Li-Po cells, 35 volts under load, the motor will pull 75 amps for 2625 watts of power, and will produce 4200 grams of thrust (9.3 pounds) at approximately 25,500 RPM. Running on 12 Li-Po cells, 42 volts under load, the motor will pull 105 amps for 4410 watts of power, and will produce 5900 grams of thrust (13.0 pounds) at approximately 30,000 RPM.
If you have a new model that you want to try an electric ducted fan power system in, or if you have an older model with a Turbax glow powered fan in it that you would like to convert to electric power, this new Scorpion conversion kit is exactly what you need!
Specifications
| | |
| --- | --- |
| Stator Diameter | 40 mm (1.56 in) |
| Stator Thickness | 35 mm (1.024 in) |
| No. of Stator Arms | 12 |
| Magnet Poles | 8 |
| Motor Wind | 6 Turn Delta |
| Motor Wire | 27 - Strand 0.29mm |
| Motor Kv | 800KV RPM / Volt |
| No-Load Current (IO) | 2.5 Amps @ 8.4v |
| Motor Resistance (RM) | 0.010 Ohms |
| Max Continuous Current | 100 Amps |
| Max Continuous Power | 4200 Watts |
| Weight | 574 Grams (20.25 oz) |
| Outside Diameter | 48.9 mm (1.9 in) |
| Shaft Diameter | 4.98 mm (0.196 in) |
| Body Length | 61.5 mm (2.38 in) |
| Overall Shaft Length | 118 mm (4.65 in) |
| Max Lipo Cell | 12s |
| Motor Timing | 5deg |
| Drive Frequency | 8kHz |
Weight including packaging
1056g
Full Dimension