Scorpion Hi-Speed Cooling Fan Alu (40mm) V2
[fan_40_V2]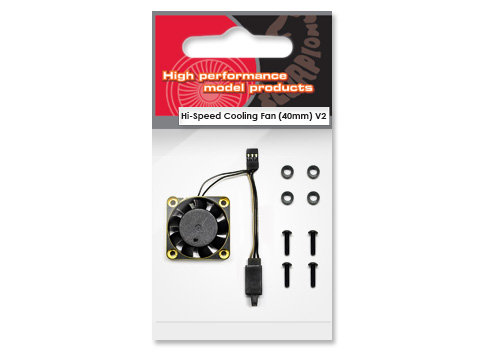 Backorder (ship within 2 weeks)
Notify me when this item is back in stock
Product Description
The V2 version of this 40mm Cooling fan, is the same as our original version, but not comes with a built in Y adaptor for easier connection to your Tribunus ESCs. This a very powerful cooling fan for the Tribunus 200/300 series ESCs. Scorpion Hi-Speed Cooling Fan (40mm) V2 has a machined Aluminum alloy case, and it can deliver excellent cooling power for your ESC. It increases air flow to heat sensitive components thus reducing degradation to help extend the life span of your ESC. It is suitable for Tribunus 14-200A, II 14-200A, II+ 14-200A , 14-300A, & II+ 14-300A ESC.
Simply plug the Male Housing Servo plug into the PC port of your Tribunus ESC, then on the other end with the Female Housing Servo Plug connect it back into your existing telemetry cable, which automatically locks due to the locking tab on the plastic housing.
NOTE: Video shows V1 cooling fan, which does not have integrated Y connector. Cabling with V2 cooling fan is now different.
Specifications
Length : 40mm (1.57")
Width : 40mm (1.57")
Thickness : 10.6mm (0.42")
Weight : 22g
Fan Speed 8.4V : 15000 RPM
Weight including packaging
32g