Scorpion Precision Tools - Mini Tools Pack (8 pieces)
[mini_tools_pack_8]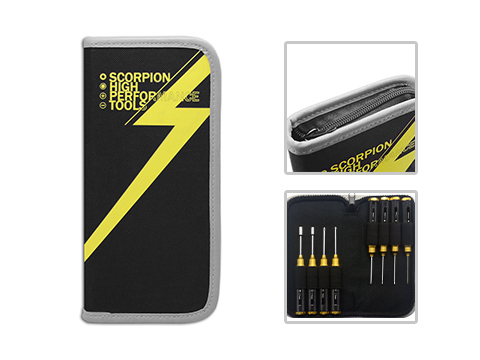 Product Description
Good news to all RC enthusiast, let us introduce to you: Scorpion High Precision Tools Mini Tools Pack (8 pieces).
Now a day different mini-R/C manufacturer carry its own type of screws, using an improper driver could easily damage those tiny screws. Customer spent money and times to buy dozen of drivers just to find a suitable one.
Consider of this, Scorpion is proud to announce our new tools pack for mini-R/C. Every single driver inside this pack has been tested and customized made to use on Atomic AMZ, Kyosho Mini-Z, 150~250 helicopter and others mini scale R/C, just a small pack has everything you needed, a perfect tools set you cannot find from elsewhere.
These durable tools made by HSS (High Speed Steel), zipper closed tools bag made by 600D polyester both with Scorpion signature design.
Included in the bag:
Scorpion Precision Tools Hex driver: 0.89mm / 1.27mm / 1.5mm
Scorpion Precision Tools Phillip screwdriver: 1.8mm / 2.5mm / 3.0mm
Scorpion Precision Tools Nut driver: 3.5mm / 4.5mm
Specifications
Tools bag:
-600 Denier Polyester
-#5 Zipper
-PVC Binding
-Included 8 pcs tools
-Product Size: 169 x 85 x 20mm (folded)
Tools:
-Ultra light weight hollow core design
-Handle made by Aluminum Alloy
-Screwdriver head made by HSS(High Speed Steel), build for wear and distortion
-Anodized aluminum handles with knurled grip
-Professional quality
Weight including packaging
220g