New Release !!! Scorpion Tribunus II 14-300A ESC SBEC
04.05.2021
Since 2017 we released the Tribunus 14-300A ESC that is built for Speed Heli and 800-class Heli. Scorpion is proud to announce our new Scorpion Tribunus II 14-300A ESC SBEC!
The First generation of Tribunus 14-300A ESC was well accepted in the R/C hobby market, however we have now taken into account user feedback from the first-generation ESC, as well our own experience from our other Tribunus II ESC's, and improved the design significantly for our 300A sized ESC.
To name a few extraordinary new features, it has
- Newly added USB port for PC connection with/ without a main power source
- Improved BEC Protection
- Futaba telemetry support without additional adaptor
- Android apps supported to allow you to configure or update the ESC via USB port without main power source
Other equally exceptional new features are :
- Improved BEC current and voltage drop for high amps servos. 0.8v drop on 20a
- Added gear ratio and motor poles settings for Jeti and Futaba telemetry
- Increased log size to 64kB
- Optimized current protection
- More PC motor control function
**Using up to16s HV Lipo will not void the warranty.
They are now available to order.
MSRP: USD599.99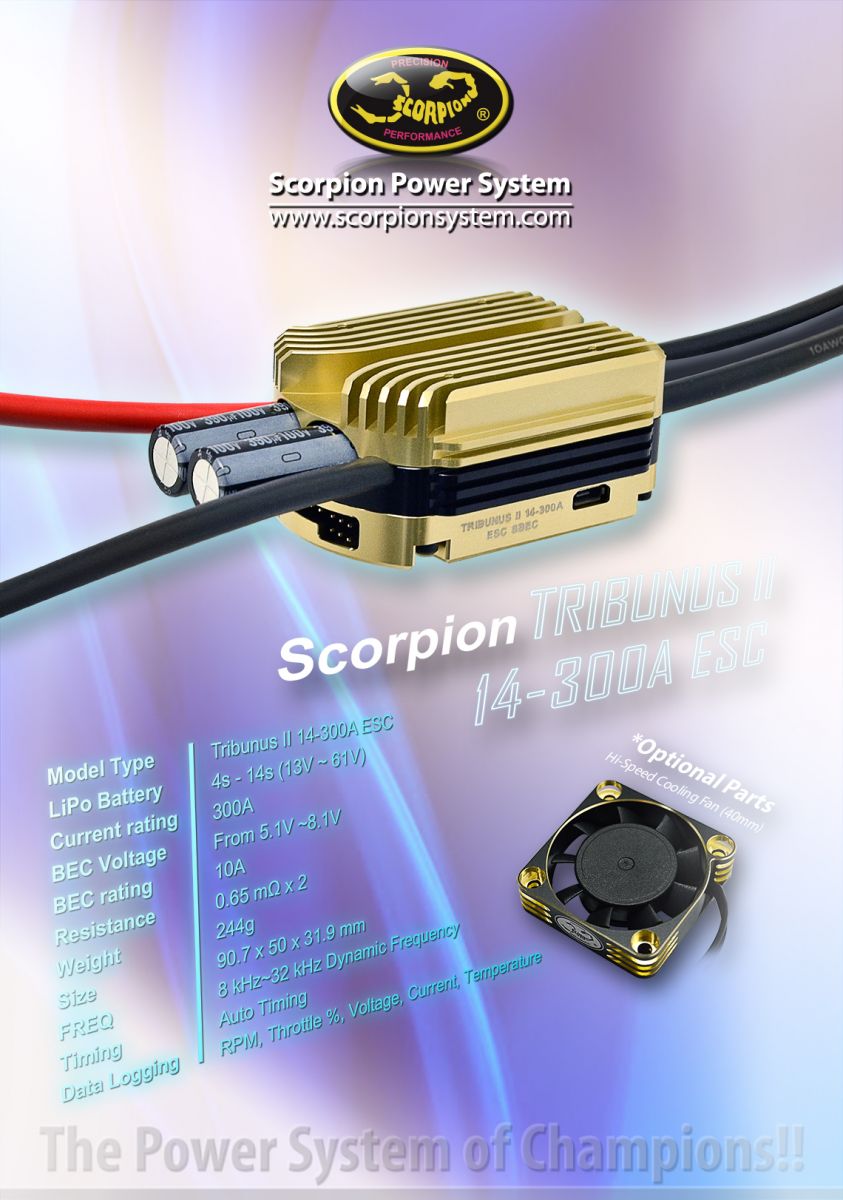 Max Continuous Current | 300 Amps
Peak Current | 400Amps
Operating Voltage Range | 14-61 Volts **
BEC Output voltage: | 5.1V to 8.3V adjustable.
Max Continuous BEC Output | 10 Amps @ 8.3 V
Peak BEC Output | 30 Amps/1s @ 8.3 V
On Resistance | 0.65 mOhms *2
Size | 90.7mm x 50mm x 31.9mm (3.57 x 1.97 x 1.26 in)
Weight (Without Connectors) | 244g (8.61 oz)
Drive frequency | 8kHz - 32kHzDynamic Frequency
Cable gauge | 10 AWG
Scorpion Tribunus II 14-300A - User Manual
Scorpion Tribunus Heli Program Sproto
Scorpion V Link II Cable CH340 Driver (For all ESC use)
How to update Tribunus firmware
How to DIY your own Telemetry/setup cable for the Tribunus ESCs – Vbar NEO
How to DIY your own Telemetry/setup cable for the Tribunus ESCs – Jeti
DIY your spark suppressor system on a ESC