E-Fest Heli Smackdown
16.02.2009
We would like to congratulate Kyle Stacy, took First Place at the E-Fest Heli Smackdown, in Champaign Illinois with his Scorpion powered Miniature Aircraft Furion helicopter. For his efforts, Kyle was awarded with a nice big check for $500.00! Way to go Kyle!!

Below is a photo of Kyle receiving his First Place check, along with a photo of his Furion helicopter in action during the event.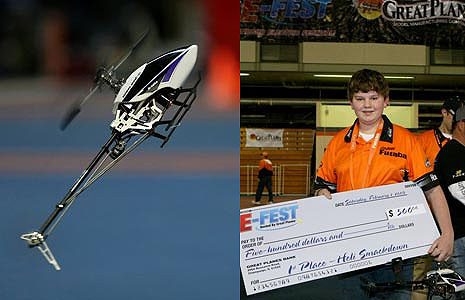 Kyle's helicopter is powered with a Scorpion HK-2221-6 motor that is controlled by a Scorpion 4-cell V2 60 amp Heli Edition ESC. This has become a very popular combination among the competition pilots using the 450 class machines.