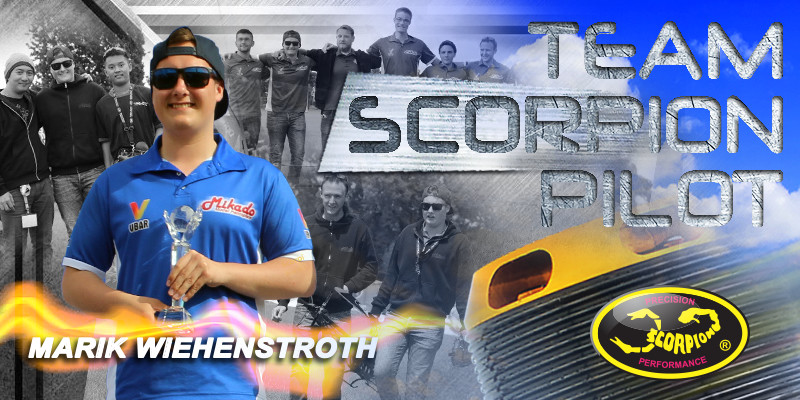 Country: Germany
RC Type: Helicopter
Flying Year Since: 2012
Participation Event or Competition with rewards:
Hi, I´m Marik Wiehenstroth and i live in Guetersloh-Germany.
I have been flying RC helicopters since 2012. My first competition was HeliMasters in 2014.
I´ve joined the Mikado team in 2015 and Scorpion Power Systems team in 2015 too, which is a gladness for me.
I have been using Scorpion Motors since i started flying in 2012. They bring the needed power into my Heli, which is really important, especially for competitions.
At the moment i´m using the Commander V-Series ESC in combination with the HKIII4225-610KV Motors in my helicopter (Logo 600SX), which is the most reliable and powerful combination I´ve ever used. I also use the HK-4015 in my Logo 480XXtreme.
All pilots work together with Scorpion to test and develop new product lines to reach the highest level of Power systems in the RC business.
2nd place Global 3D Expret Class
2nd Rotor Live 2016
IRCHA
HeliMasters Noerdlingen
3D Cup France
Alpine Heli Smackdown Swiss
RotorLive Germany
Habo HeliMeeting Sweden
HeliDays Myto Czech Republic
Vbar Meeting 25years Mikado
many local FunFly´s in Germany
I´m really happy about being a part of team Scorpion and I´m looking forward to a good co-operation with my favorite brand of Power Systems on the market in the future.