Marik Wiehenstroth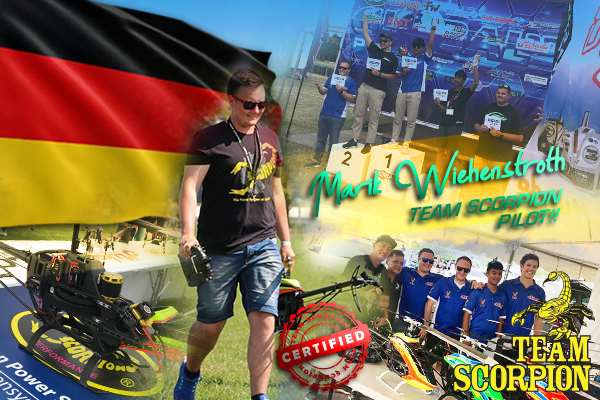 Motors:
Participation Event or Competition with rewards:
I´m Marik Wiehenstroth and I live in Guetersloh-Germany.
I started flying RC helicopters in 2012.
My first competition was Heli Masters in 2014.
I joined the Mikado Model helicopters Team in 2014 and Team Scorpion Power Systems in 2015, since then I´m travelling arond the world together with my brother Alex having a lot of fun represent Scorpion on many events.
I have been using Scorpion Motors since I started flying and I am impressed of their reliability and power in flight.
Scorpion is bringing today´s Speed Controllers to a new level with their new Tribunus ESC´s, especially in combination with Mikado´s VBar Control radio and telemetry system.
A Power System from Scorpion is bringing the required power to my helicopter, which is really important in every section of the flight especially for competitions.
My helicopter setups:
Logo 700: HKII-4530-540KV and Tribunus 14S-200A SBEC ESC
Logo 600SX: HK-4225-610KV and Tribunus 12S-130A SBEC ESC
Logo 550: HKII-4025-1100KV and Tribunus 6S-120A SBEC ESC
Logo 480: HKII-4015-1070KV and Tribunus 6S-120A SBEC ESC

Participated events:

IRCHA Jamboree 2015, 2016, 2017
Global 3D Venlo
3D Masters/HeliMasters Venlo
HeliMasters Noerdlingen
3D Cup France
Alpine Heli Smackdown Switzerland
HeliChallenge Switzerland
RotorLive Germany
Habo HeliMeeting Sweden
HeliDays Myto Czech Republic
3DX Asia pacific 2016 China
many local FunFly´s in and around Germany
All pilots are working together with Scorpion to test and develop new product lines to reach the highest level of Power Systems in the RC business, I´m proud of being a part of the Scorpion family!