Brushless Outrunner Motors
Scorpion Power Systems specializes in the design, development and production of premium Brushless Outrunner Motors. Each part of a Scorpion Motors is designed from the ground up by experienced and passionate engineers with the best quality components available to provide power, efficiency, and reliability which is a grade above the rest!

Our motor magnets are custom manufactured from a select premium supplier to be able to withstand the high temperatures associated with high performance applications. The copper wire we use to wind the stators is covered in an imported enamel coating which is rated to 250+ degrees C (482 F), so it can take the heat and keep on performing. Our premium imported 0.2mm Stator sheets provide the highest torque per amp ratios, and best top end performance capabilities. Our imported bearings are of the best quality providing long lasting and reliable run time operation. For everything else, we utilize aviation grade 7075 aluminum and other materials that are CNC machined in-house and anodized for a fit and finish that is second to none.

With a motor and service of this caliber, you would expect to pay an ultra-premium price, but with our efficient manufacturing procedures and streamlined distribution chain, Scorpion motors retail for very affordable prices making them one of the best overall values on the market today. Combine that with our fast production times, customization options, and fantastic customer support, the value of choosing Scorpion Power System will be worth it everytime.

If you want to get ahead of your competitors you will need the best quality motor available at an affordable price. The next time you need a brushless motor, do yourself a favor and buy a Scorpion Brushless motor. You will be glad you did!
---
---
Want your entire power system to be as powerful and reliable as the motor is? Combine your Scorpion Motor with one of our Scorpion ESCs to get a matched power system package that provides the power, efficiency, and reliability that your aircraft needs.
---
---

A-Series / Airplane Propulsion
The Scorpion A-series Motors were designed for primary use in Aerobatic / UAV Airplanes with direct drive medium speed propellers. The designs focus on amazing peak effiicieny, phenominal power, and good torque.
The motor designs come with rear cross mount, and have options for convinient front side propeller mounting.
Series
Power (w)
Weight (g)
Motor Outer Diameter
Approximate
MAX RPM (+/-)
Pole Count
Size Equivalent Class
A-30
500 - 962
134 - 152
36.6
15,000
14P
30E - 32E
A-42
2000 - 3108
288 - 400
50.7
13,500
14P
70E-90E / 15cc - 25cc
A-50
3200 - 4000
523 - 550
59.3
11,000
14P
30cc - 35cc
A-55
3552 - 4662
622 - 655
65
10,500
14P
35cc - 40cc
A-65
4218 - 7200
998 - 1114
78.5
10,000
14P
60cc - 76cc
A-74
4884 - 10000
1300 - 1815
86.8
9,000
28P
85cc - 176cc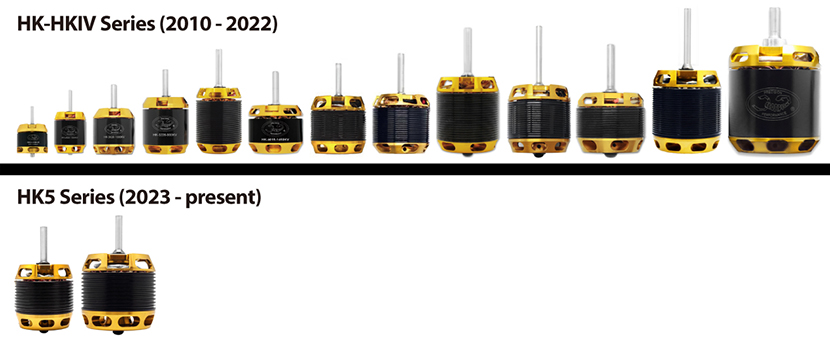 HK-Series / Helicopter and
High-Speed UAV
Propulsion
The Scorpion HK-series Motors were designed for primary use in Helicopters with gear reduction units. They also find use in UAV Airplane application which require Ultra High Speed Propellers. The designs focus on Maximum Power Capability at high RPM, High Effiicieny, High Temperature Resistance, and best torque per amps.
The motor designs come stock with rear mounted shaft convinient for pinion mounting, or can be used with propeller adaptor.
HK - HKIV Motors (2010 - 2022)
Series
Power (w)
Weight (g)
Motor Outer Diameter
Approximate
MAX RPM (+/-)
Pole Count
Rotor Size / Size Class
HKII-22
130 - 525
34 - 81
27.9
55,000
6P
200mm - 350mm blade size
HK-25
720-1040
104
31.5
59,000
10P
350mm rotor blade
HK-30
650 - 1600
119 - 153
37.5
25,000
10P
380mm - 420mm blade size
HK-32
1770 - 2000
239
40.9
40,500
6P
420mm - 480mm blade size
HK-35
2900 - 4150
365
45
25,500
10P
600mm - 650mm blade size
HK-40
1900 - 2440
215 - 240
48.9
36,500
10P
480mm rotor blade
HKIV-40
1731 - 5328
310 - 456
49.5
28,000
10P
520mm - 700mm blade size /
High Speed UAV
HKII-42
3550-7100
393 - 522
52.3
30,500
10P
600mm - 700mm rotor blade /
Battle Bot
HK-45
6200 - 15,000
660 - 719
56.7
30,000
10P
700 - 800 size Speed Heli /
Other
HKII-45
4403 - 11,000
515 - 588
56.9
27,000
10P
690mm - 800mm blade size
HKIII-50
3770 - 14,800
501 - 839
62.1
35,600
10P
700mm - 800mm blade size /
Battle Bots / Other
HKIV-50
5128 - 7104
785
62.2
25,000
10P
800mm - 850mm blade size
HKII-70
10,000 - 15,000
1915
82.4
16,500
10P
1000+mm blade size /
Battle Bots / Other
HK5 - Series (2023 - Present)
Series
Power (w)
Weight (g)
Motor Outer Diameter
Approximate
MAX RPM (+/-)
Pole Count
Rotor Size / Size Class
HK5-40
1900 - 2664
326
49.5
28,000
10P
500mm - 520mm blade size
HK5-50
5772 - 11,500
598
62.8
27,000
10P
690mm - 800mm blade size