Alex Wiehenstroth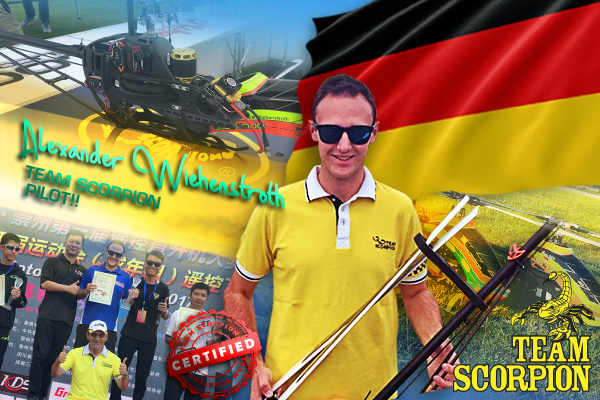 Motors:
Participation Event or Competition with rewards:
I´m Alex Wiehenstroth and I live in Guetersloh-Germany.
I started flying RC helicopters in 2010.
My first competition was Heli Masters in 2013.
I joined the Mikado Model Helicopters Team in 2014 and Team Scorpion Power Systems in 2015, since then I represented them on many events.
I have been using Scorpion Motors since I started flying in 2010 and I am impressed of their reliability and power in flight.
Scorpion is bringing today´s Speed Controllers to a new level with their Tribunus ESC line, especially in combination with Mikado´s VBar Control radio and telemetry system.
A Power System from Scorpion always provides the needed power for my helicopter, which is really important in every section of the flight especially for competitions.
At the moment I'm using the following power systems in my helicopters:
Logo 700: HKII-4525-520KV and Tribunus 14S-200A SBEC ESC
Logo 690SX: HK-4525-380KV and Tribunus 12S-130A SBEC ESC
Logo 550: HKII-4025-1100KV and Tribunus 6S-120A SBEC ESC
Logo 480: HKII-4020-1100KV and Tribunus 6S-120A SBEC ESC

Participated events:

IRCHA Jamboree 2014, 2015, 2016, 2017
Global 3D Venlo
3D Masters/HeliMasters Venlo
HeliMasters Noerdlingen
3D Cup France
Alpine Heli Smackdown Switzerland
HeliChallenge Switzerland
RotorLive Germany
Habo HeliMeeting Sweden
HeliDays Myto Czech Republic
3DX Asia pacific 2016 China
Rotor Asia Masters 2017 China 1st place
many local FunFly´s in and around Germany
All pilots are working together with Scorpion to test and develop new product lines to reach the highest level of Power Systems in the RC business, I´m proud of being a part of the Scorpion family!