Jacques Myburgh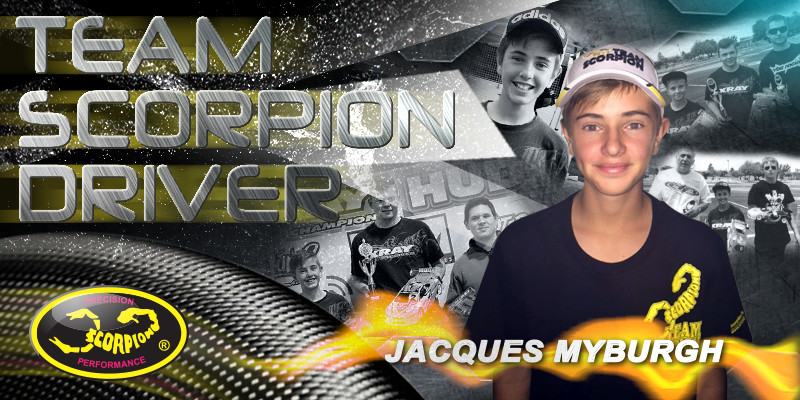 Motors:
ESC:
Participation Event or Competition with rewards:
National events
1. The first national event was held in PTA at Trap Wc. I managed to qualify 3rd in the B —mains and ended up 5th overall for this event.
2. The second event was held in Welkom where I managed to finish 3rd overall in the "B-mains".
3. Our third event was held in Durban where I qualified 4th and ended 5th overall for the event.
4. The second last event was held at Meyersdal. I was on pace with the "A-main" contenders, but a few mistakes landed me in the "B-Mains" where I finished 5th overall.
5. The last event was held at Key West in Krugersdorp. The weekend started well and I qualified 6th in "A-Mains". I improved on that and ended 3rd overall for the weekend.
All of the above led me to finish 6th overall in 17.5T boosted at National events and in the country
At club level I started competing for podiums in A-mains and had a few top 3 finishes. All of this led me to finish top 10 in 17.5T at the club year end.
2014
SARDA Electric On-road Nationals Rd5 — Report
17.5T Touring result
3. Jacques Myburg
Sarda 2015 Season
4 4xTQ & 4xWlN at SARDA 2015 On-Road Electric Nationals,
RI South Africa 17.5T Touring (boosted)
2. Jacques Myburgh (TQ) - XRAY T4
13.5T FWD Touring
The final results for the 13.5 FWD Touring A Main:
1. Jacques Myburgh (TQ) - XRAY T4
Sarda round 2
17.5T Touring A-Main result:
2. Jacques Myburgh
13.5 FWD Touring A-Main result:
1. Jacques Myburgh
Sarda round 3
17.5T Touring A-main result:
2. Jacques Myburgh
Sarda round 4
17.5T Touring A-final results:
2. Jacques Myburgh
2015 SARDA Electric On-road Nationals – Report
17.5T Touring Boosted overall top 5:
1. Jacques Myburgh – Xray
13.5T FWD Touring overall top 5:
1. Jacques Myburgh
2016 SARDA National Championship Rd1 – Report
Touring Modified A-Main result:
7. Jacques Myburgh – Xray