James Green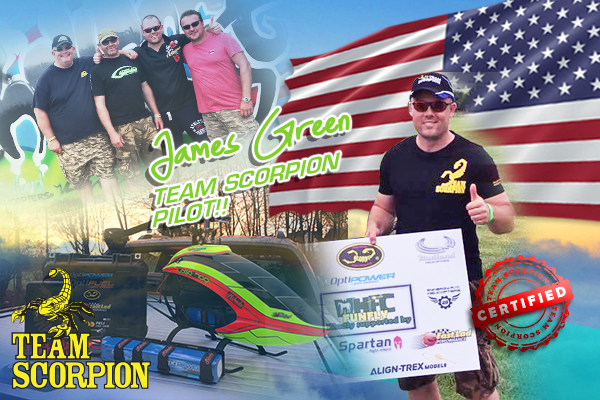 Participation Event or Competition with rewards:
Country: UK, Essex
Model: Helicopters
Motor: 4525-520 Ultimate
Model: Mikado Logo 700
Other Sponsors: Fastlad Performance, Optipower/Optifuel
Events:
BMFA Nationals 2009 F3C Sportsmans 1st Place
Air Competition 2014, 2015 Big Air Award Winner
Helifest 2014, 2015, 2016 Competitor
Bulls Smackdown 2015 & 2016 Competitor
Background
I've been flying for a while now, and I love being part of such a great hobby with a great bunch of people.
I'm no 3D god, but I do love getting out there and competing, and attending events and feel very lucky to have great support from Scorpion, and my other sponsors.
In Air Competition 2016, I decided to send my Synergy 766 for a swim into a lake (not part of my plan), Despite lots of my Heli being destroyed, my 4525-520 ultimate motor, survived and still works perfect. Just shows how durable Scorpion products are!