James Green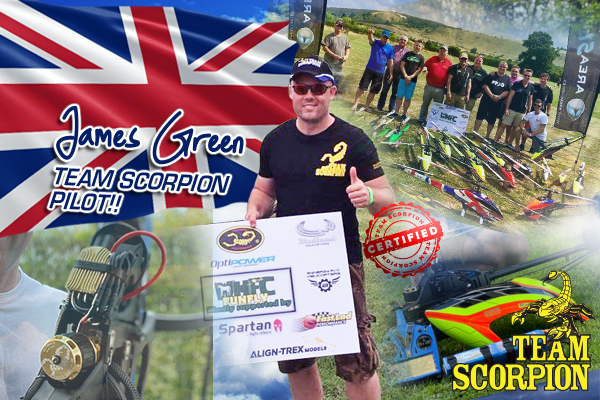 Participation Event or Competition with rewards:
Country: UK, Essex
Model: Helicopters
Motor: HKII-4525-520 Ultimate
Model: Mikado Logo 700
Other Sponsors: Midland Helicopters, Optipower/Optifuel
Events:
BMFA Nationals 2009 F3C Sportsmans 1st Place
Air Competition 2014, 2015 & 2016 Big Air Award Winner, 2017
Helifest 2014, 2015, 2016 Competitor
Bulls Smackdown 2015 & 2016 Competitor
White Horse Fun Fly 2018
Background
I've been flying for a while now, and I love being part of such a great hobby with a great bunch of people.
I'm no 3D god, but I do love getting out there and competing, and attending events and feel very lucky to have great support from Scorpion, and my other sponsors.
In Air Competition 2016, I decided to send my Synergy 766 for a swim into a lake (not part of my plan), Despite lots of my Heli being destroyed, my 4525-520 ultimate motor, survived and still works perfect. Just shows how durable Scorpion products are!
After a short break from flying, I've recently upgraded to the Tribunus II 200A ESC paired with the Vbar Control Touch, the level of integration between these two products is amazing!!
I'm looking forward to the 2020 season.