Blanton Rivera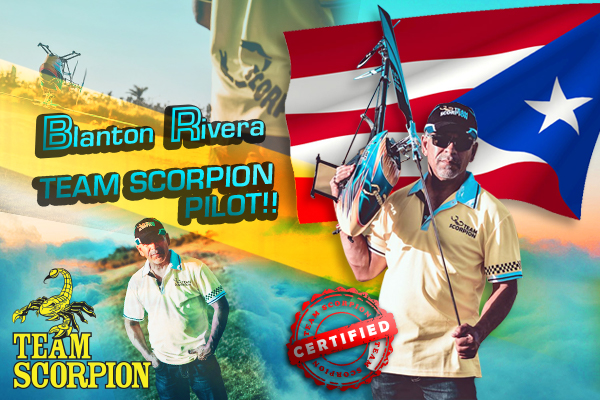 Motors:
ESC:
Participation Event or Competition with rewards:
Blanton was born in Puerto Rico and was a motorcycle racer in the Drag Racing category until he retired in 2010. In 2014 he started flying Rc helicopters and from his start to been using Scorpion engines. He is a tireless fan and faithfully flies every weekend and is a very good 3D pilot.
In 2015 Blanton bought its first speed helicopter and fell in love with this modality. Which led to the IRCHA Speed ​​Cup in 2016, 2017, 2018.
In 2017 he joined the Scorpion team and from there he is a faithful promoter of Scorpion products, helping many with their configurations. He is currently a pilot of SAB USA.
The most impressive thing about Scorpion's Blanton is not only the quality of the product, but the quality of the human staff that works in Scorpion, and above all, the customer service.

In its 2 speed machines SAB uses motors and speed controler, Scorpion.
Motor HKIII- 5040 - 530kv
ESC. Tribunus 300 amp
In his 3D machines he uses;
Motor HKII- 4525-520kv Ultimate
ESC. Tribunus 200 amp
Events in which you have participated;
In Puerto Rico in multiple (Fun Fly) achieving 1st place in the speed cup.
He currently has the speed record in Puerto Rico in his Goblin Comet of 196 mph / 316 kph. Average speed down wind.
International events
Ircha 2016 5th place Speed ​​cup standard class
Ircha 2017 5th place Speed ​​cup Standard class
Ircha 2018 1st place Speed ​​cup Standard class