Philip Frank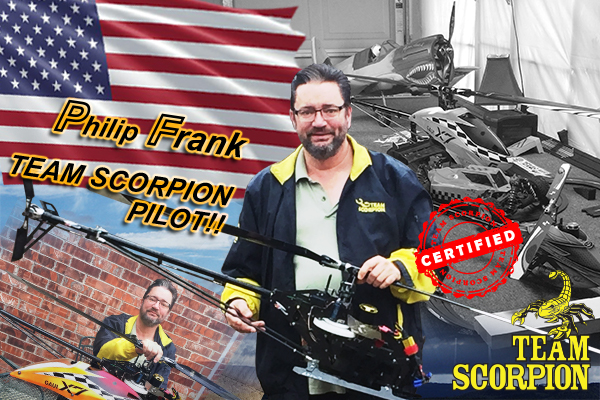 Participation Event or Competition with rewards:
Model Helicopter World January 2002 Issue – Texas Heli Heat Wave Page 28
Model Helicopter World October 2002 Issue – Extreme Flight Championships 2002 Page 40
Rotory Modeler November/December 2005 Issue – 2005 IRCHA World Jamboree Page 6
Rotory Modeler March/April 2008 Issue – Aero Hobbies 10th Anniversary Funfly Page 76
Rotory Modeler September/October 2005 Issue – XFC Championships 2005 Page 40
Plus 4 other that I do not have copies of the issues.
Have been to IRCHA 4 times
Attended Top Gun Invitational in Florida during the 2 years they had Scale Helicopter Judging and Performed a mild 3D demonstration.
Have attended and currently attend other RC Heli Events too numerous to count.
Served as Chief Rotary Winged UAV Pilot and Technician for the University Of Texas Arlington on a government funded DARPA UAV Research Project.
In 2011, founded SkEye-Ball Aerial Photo/Video.
Past sponsored by Miniature Aircraft USA and HeliWholesaler.com in Billings, Montana.
Current sponsors are Scorpion Power, Fusuno Canopies, Evopower, Bobbyjacks Hobbies.
I also enjoy 1/5 and 1/8 rc cars and race slot cars.
Professional:
Have worked airframe and powerplant/management in the Aerospace Industry on commercial aircraft and helicopters for 31 years. Currently work as an Aircraft Inspector for Airbus Helicopters.