Rasmus Jakobsen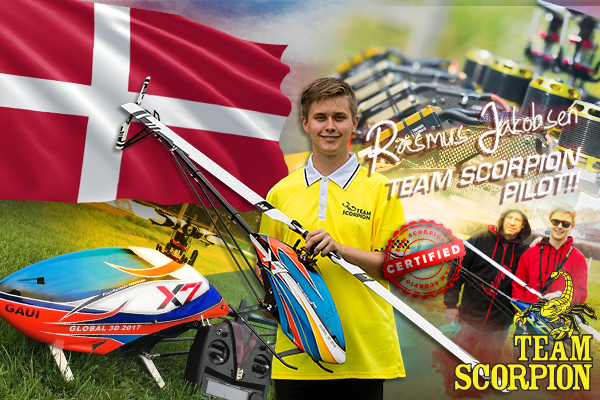 Participation Event or Competition with rewards:
My name is Rasmus Jakobsen, I'm 22 years old and living in Denmark. I have been flying RC Helis since 2011 and enjoyed it ever since. I have been competing in all kind of different competition since 2013 and participated in events all over the world, the list is long. I start using Scorpion Power Systems back in 2017 because I found them perfect for my flying style, light and with a lot more power then I need.
Sponsors: SpinBlades - ManiaX Power - KST Servo - Gaui Tsh - OXY Helicopter - Scorpion Power System co., ltd. - DryFluids - Schmierstoffe - Tight Ass Screws - Lynx Heli Innovations - Mikado Model Helicopters - Lynx Fpv innovations
My greatest achievements during the years has been:
1st Thailand Heli Blowout 2019 (Thailand)
1st Music competion, Bulls smackdown 2016 (Spain)
1st F3N DK 2019 (Denmark)
1st F3N DK 2018 (Denmark)
1st Junior F3N nordic 2014 (Sweden)
2nd 3DX Asia Pacific 2016 (China)
2nd Thailand Heli Blowout 2017 (Thailand)
2nd 3D Champs international 2016 (UK)
2nd Freestyle competition, Bulls Smackdown 2016 (Spain)
2nd F3N European Team Championship 2016 (Poland)
2nd F3N DK 2016 (Denmark)
3rd IRCHA, King of the Midnight Sun 2019 (USA)
3rd F3N DK 2014 (Denmark)
3rd F3N DK 2015 (Denmark)
3rd F3N DK 2017 (Denmark)
3rd senior F3N nordic 2014 (Sweden)
3rd F3N World Team Championship 2017 (Poland)
4th Rotor Live 2018 (Germany)
4th Global 3D expert 2016 (Holland)
5th F3N World Championship in F3N 2019 (Germany)
Not to talk about all the event I have been attending repeatedly worldwide:
IRCHA, Orlando Heli Blowout, Thailand Heli Blowout, Rotorlive, Alpine Smackdown, Bulls smackdown, F3N WC/EC, Global 3D, 3D Championship, Las Vegas Funfly, Der-Schweighofer, HeliChallange, 3DX China, Habo Helimeet, Pitchbrothers Smackdown Denmark..... and so on.