Kuno Kang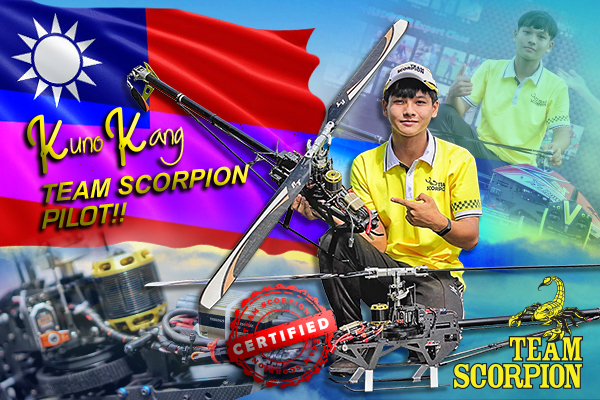 Participation Event or Competition with rewards:
My name is Kuno Kang. Currently I'm 20 years old. At the moment I'm still a student, and work in my free time sometimes.
I came in contact with flying when I was young. I had many interests since I was a child. I started flying with my father at ever spot. I love to fly, very much, since I was 5 years old.
Later on, when my father found out about helicopters, he started to like the hobby more and more. My dad is very supportive for me.
I also participated in some competitions. In 2016, 3DX won the senior group championship and Rotor Asia Master 2019 got the third place of the expert group.
I really like that stimulating feeling. Step by step. It is just like a slow study. This sensation can't be replaced with anything else.
When you are happy or sad, you just touch the remote control. This is my world and its pleasant to me.
Thanks to Scorpion for giving me this opportunity to join this great family.
XLPower Specter 700
Scorpion HKll-4530-540kv
Scorpion Tribunus ll 200A ESC
Scorpion Backupguard
Xpert KD1 KD1T
RT 710 RT105
SupraX REB7808 S.T. S7 P8
Next CGM
Vbar Control
Vdar Neo