Alexander Perez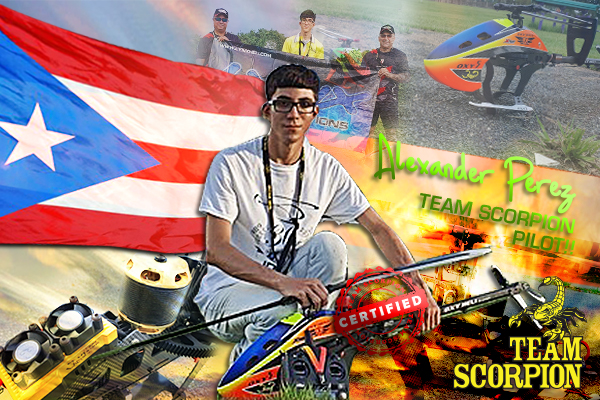 Participation Event or Competition with rewards:
I'm Alexander Perez and I'm a helicopter pilot from the island of Puerto Rico.
The Helicopter hobby is definitely something I love to work with on a daily basis and I really enjoy it. After testing many power configurations I can say that Scorpion is the most reliable and easy to work/setup in any model. I really love the great power I have in my OXY Helis with this configuration. Having a V-Bar Control Integration is one of the key features of the Tribunus line which makes setup incredibly easy and you can always make an adjustment on the fly in your radio. I'm super thankful & proud of representing Scorpion in social media and every event I go to promote the Power System of Champions!
Events:
IRCHA 2019
PR Heli Fun Fly
Labadie Fun Fly
Carolina RC Club Fun Fly
PR Heli Day
Area 51 BBQ Fun Fly
Motor: HKIII-4025-1100kv
ESC: Tribunus 120A SBEC