Michael Gator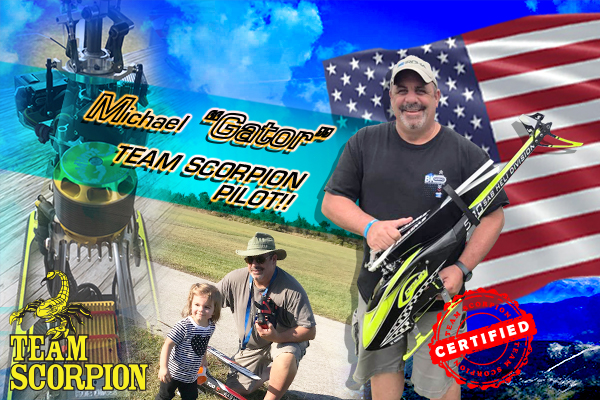 Participation Event or Competition with rewards:
My name is Michael Gaeta but everyone calls me "Gator". I live in Seffner Florida.
I've been flying for about 25 years but the last 7 years only Heli's. I have a true passion for the hobby. The bonus is all the friends I have met along the way!
I cannot fly very well. With that being said, I only fly the best! That's why I only fly Scorpion Motors and Esc's.
Georges, not only Designs, Develops and Manufactures the best in the industry. He is also a Great Ambassador to the hobby.
Thank you for allowing me to be part of the Scorpion Family. I truly appreciate the opportunity and I will do my best to represent Scorpion in any way I can.
Motors I currently use
HK-4525-520 KV Ultimate
HK-4020-1100 KV
HK-3020-1000KV
Esc's I currently use
Scorpion Tribunus 12-130A Esc-Sbec
Scorpion Tribunus 06-120A Esc-Sbec
Current supporters
BK Servo
Switch Blades
Sab USA