Davide Silingardi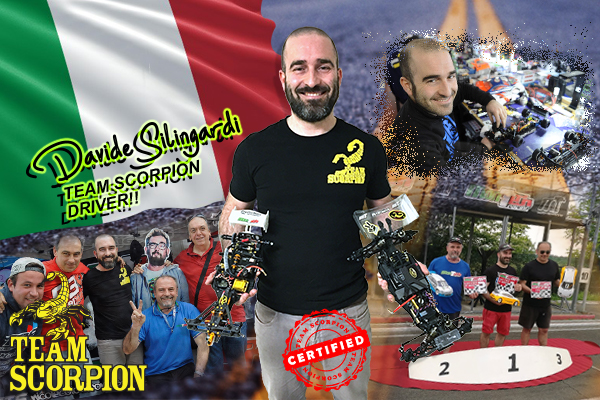 Participation Event or Competition with rewards:
My name is Davide Silingardi and I'm 41 years old, drive with more than 20 years of RC car experience which I have develope special interest of the software of the ESC.
I'm running in multiple category while I'm a part of the management Carpet track that is one of the most famous in Italy called RCLandia in Scandiano Italy where we run in multiple class like Touring car, F1, GT12, 1/12 mod, FWD and USGT 2WD buggy and 4WD buggy.
Managing this I had chance to work with may different ESC manufacturer with many different software becoming quite smart to easy find right setting but I was impressed from the accuracy and the reliability of Scorpion Vanguard esc no matter is the amperage, the application of the class. Scorpion Vanguard Esc could generate a lot of power with easy adjustment and with unbelievable reliability.
This thanks to the cooperation wit the company could help me to, even if time for running become less and less due to the managing need of the track, leave me the chance to be always close to the top's driver. Scorpion esc equipped with all the engine brand are super easy to handle the car no matter class it is but they found the best match with Scorpion RR o RS motors that could give to your car a fantastic torque with a resistance at high temperature that could be difficult to reach with the other motors on the market. All has to be fueled from the reliable Scorpion battery that could run many many cycles without loosing punch or swell.
You could find me on the most important track and I will be more than happy to discuss with you about how we could use Scorpion Staff.
I am acting like an ambassador over the tracks more than others.