David Westmorlan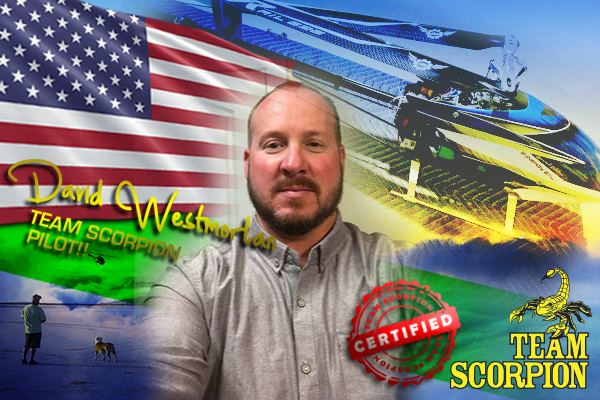 Participation Event or Competition with rewards:
I have been flying RC since 1994 starting with RC airplanes currently I have 2 electric and one gas airplane in my fleet. I have been involved with RC Heli's since 2004 which has become my main focus in the RC world. I am currently part of Team Synergy, Team HeliDirect, Team Magnum Fuels. I have been the safety officer at my local club for 5 years in a row now. I currently work as a UAV Pilot/Maintenance technician and instructor.
I have both electric Heli's, and Nitro Heli's in my fleet. Synergy 516 with a scorpion HKIII-4020-1350kv motor and a scorpion BUG, Synergy E7SE with a scorpion HK-4525-520kv ultimate motor and a scorpion BUG, Synergy N7 with a scorpion BUG, Synergy N5C with a scorpion BUG
I have attended IRCHA 3 times in 2008, 2012, 2014. I was first introduced to Scorpion Power System when I met Georges at IRCHA in 2012. I have also attended several other events to include funfly's in Utah, Nevada, Arizona, Missouri, Kansas, Tennessee, Arkansas, over my years of flying RC Heli's. I would honored to be a Team Scorpion and help support the brand.