Simon Hatz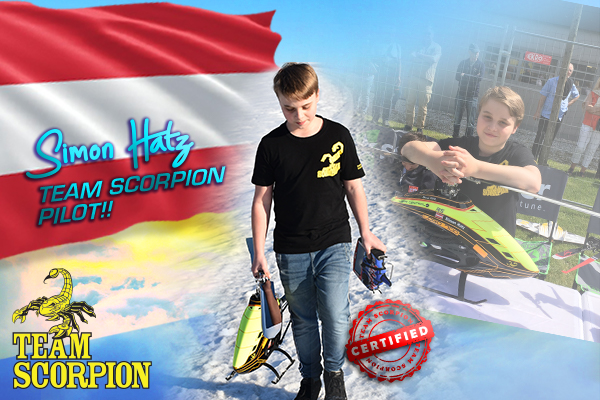 Participation Event or Competition with rewards:
Date of birth: 09.05.2006
I live in Altach, Austria
I started flying RC helicopters in 2014 and joined the Mikado Model helicopters Team in 2017.
I have been using Scorpion Motors since I started flying.
Motors:
My helicopter setups:
Logo 700: HKII-4530-540KV and Tribunus 14S-200A SBEC ESC
Logo 600SX: HKII-4225-610KV and Tribunus 12S-130A SBEC ESC
Logo 550: HKIII-4025-1100KV and Tribunus 6S-120A SBEC ESC
Logo 480: HK-4015-1070KV and Tribunus 6S-120A SBEC ESC

Participated events:

Alpine Heli Smackdown Switzerland
HeliChallenge Switzerland since 2015, 2017 3rd place in music competition
RotorLive Germany 2015, 2016, 2017, 2018, 2019
Helimeeting Ventolina, Italy 2015, 2016, 2018, 2019
Global 3D Venlo 2017 and 2018 demo-pilot, 2019 in competition
IRCHA Jamboree 2018, 2019
Furtivos Spain, 2019

With my brother Lucas I join a lot of events in Austria, Switzerland, Germany and Italy.