Scorpion A-6528 PNP Combo (12s / 60cc-76cc / 6000+w)
[A_6528_PNP_12s]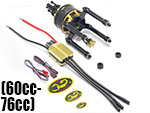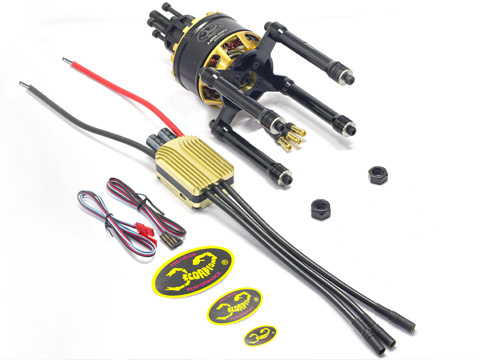 Backorder (ship within 30 days)
Notify me when this item is back in stock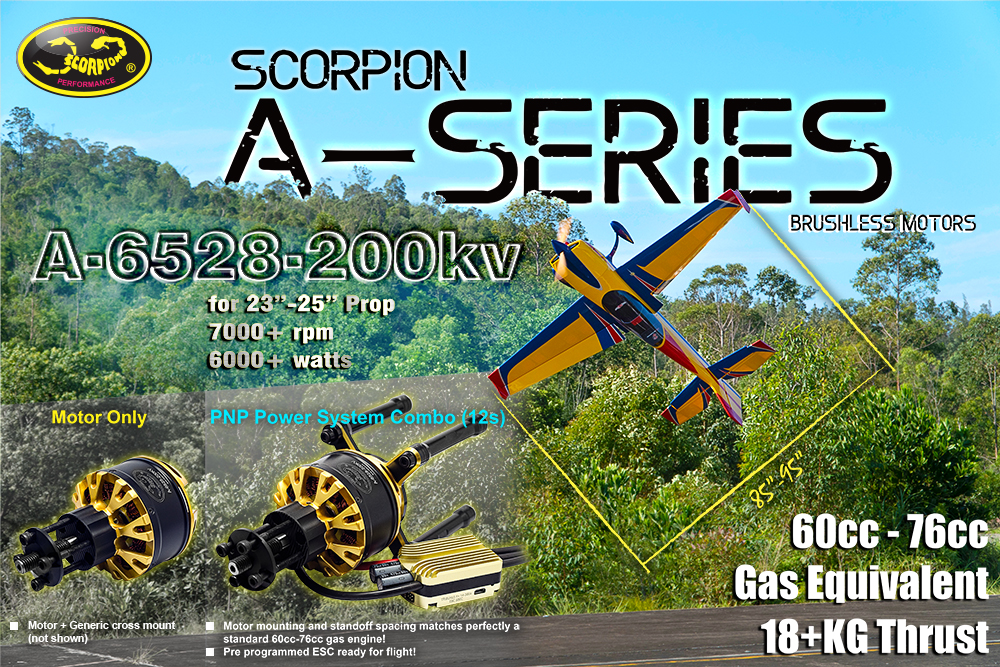 Product Description
In combination with our new A-Series motor line debut, we are also please to announce our new "PLUG-N-POWER" combo kits! We wanted to take the guess work, and customization out of using Giant Scale Electric Power Systems, and provide our customers with a simple, convenient and reliable power system for their 60cc-76cc sized airplanes. The A-6528 PNP Combo is the solution. This pairs our high power and high efficiency A-series motors with one of our suitably sized, pre-programmed, Tribunus ESCs! Providing you with a tested, proven, and convenient power system combo, which is sure to provide you immense power, at the best efficiency!
With 3D flight, low end torque and acceleration are crucial. Many companies opted to go with a "large diameter / thin height / high pole count motors" to try and get increased torque / acceleration. However doing this has the side effect of very large physical size and Lower Peak Efficiency. We at Scorpion have opted to stay with our proven 12N14P stator design. We have fine-tuned the magnets in the rotor to have amazing Peak Efficiency, and amazing Top End Power. Then, when used in combination with our Tribunus ESC, which has our proprietary drive algorithm which has unique switching pattern, along with features such as dynamic timing and dynamic frequency, we are still able to attain amazing low-end torque and acceleration. With the combination of the 2, we get "the best of both worlds" in the sense we have amazing peak Efficiency and Power with our stator design, and amazing low-end torque from the ESC side. Additionally, physically speaking our motors are similar length, with a much smaller outer diameter then other designs, which can be easier to fit inside cowls or fuselages of your airplane or UAV.
This specific A-6528 PNP Combo (12s), is designed for 12s powered 85"-95" Acrobatic Airplanes, or other Sport / UAV airplanes requiring up to 6000w of power. This motor is equivalent to a 60cc/76cc gas engine. We call it 60/76cc because with a 23" prop it is very equivalent to a 60cc gas engine and pulls less amps and therefore could run smaller batteries for lighter overall model weight. Or with a 24" prop it pulls as hard as a 76cc gas engine making over 18.18kg (40lbs) of thrust, but with more amps thus requiring a larger (heavier) battery.
This PNP combo comes with a Scorpion A-6528-200kv motor with pre mounted and 2 tone anodized A-Series Cross Mount (50-70cc), and our sturdy A-Series Standoff Set (30-70cc), which matches perfectly the bolt hole spacing, and length of an equivalently size gas engine + common gas engine standoff. This was designed to fit under the cowl of many standard 60cc-76cc airfames and has enough adjustment shims to fine tune the spacing to your specific airframe. Paired with a pre programmed Tribunus II+ 12-200A ESC, This PNP combo is ready to easily bolt on, and give you the power you need, with the efficiency you want.
Recommended Prop Selection :
23x10E = Efficiency / 60cc performance
24x10E = Optimal / 70cc-76cc performance
24x12E / 25x8E = High Alt
Acrobatic Weight Range -: 8.18kg - 12.7kg (18.0lbs - 28.0lbs)
Sport / UAV (single engine) Weight Range : - 12.7kg - 36kg (28.0lbs -80lbs)
Recommended (Acrobatic) Battery Size - : 12s (44.4v) 5000-6000mah Lipo
Recommended (sport / UAV) Battery Size - : 12s (44.4v) 8000-32,000mah Lipo
Scorpion A-6528-200kv + A-6528 PNP Combo {Official Promo Video}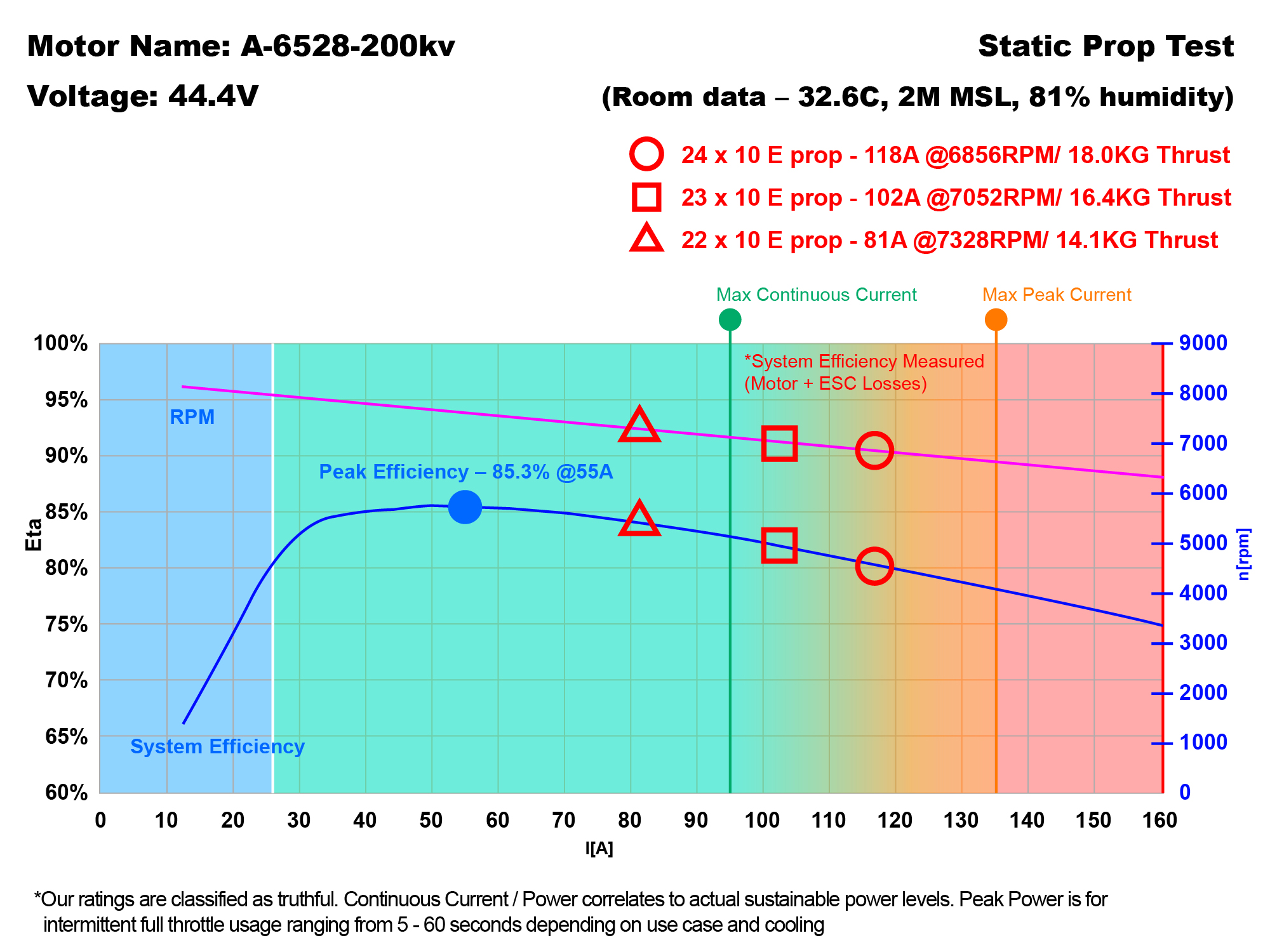 Specifications
Total Power System Weight (Motor+ESC+Cross Mount+standoffs)

1613g (56.90 oz)

MOTOR SPECIFICATIONS :

Motor Kv

200 RPM / Volt

Weight (including cross mount + Prop mount accessories)

1115g (39.33 oz)

Motor Body Dimensions

78.5 mm x 67.8mm+20mm prop spacer (3.09" x 2.67"+0.79")

External Shaft Diameter

10mm

Continuous Current

95A

Continuous Power

4218 Watts

Peak Current*

135A

Peak Power*

6000 Watts

Max Rated Lipo Cell**

12s

Stator Arms

12

Magnet Poles

14

ESC SPECIFICATIONS :

Max Continuous Current

200 Amps

Peak Current

250Amps

Operating Voltage Range

14-61 Volts

BEC Output voltage***:

OFF/5.1/6.1/7.1/8.1

Max Continuous BEC Output

10 Amps @ 8.1 V

Peak BEC Output

30 Amps/1s @ 8.1 V

Size

86.7 x 45 x 27.6 mm (3.41 x 1.77 x 1.08 in)

Weight (Without Connectors)

224g (7.9 oz)

Drive frequency

8kHz - 32kHz

Cable gauge

10 AWG

*Our ratings are classified as TRUTHFUL. Continuous Current / Power correlates to actual sustainable power levels. Peak Power is for intermittent full throttle usage ranging from 5 - 60 seconds depending on use case and cooling*

**Higher Cell Count possible with smaller prop usage**

***In this PNP combo, the BEC has been switched off in programming. If using high QTY of high torque / power hungry servos, we advise to use a external Lipo Battery to power your RX. BEC is protected against back voltage, so RX lipo can be plugged in line, without damaging BEC. If user desires, BEC may be switched back on in programming. ***
Included in the Box
1 x Scorpion A-6528 BLDC Motor
1 x A-65 Cross Mount (50cc-76cc) (Mounted)
1 x A-Series Standoff Set (30cc-76cc) (Mounted)
1 x Tribunus II+ 14-200A ESC
2 x Scorpion 550mm ESC/ BEC Cables
3 x Scorpion Stickers
2 x M10 Nuts
Weight including packaging
2075g
Full Dimension
View Scorpion A-6528 PNP Combo (12s / 60cc-76cc / 6000+w) Full Dimension