Scorpion A-3017-600kv
[a_3017_600]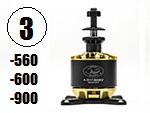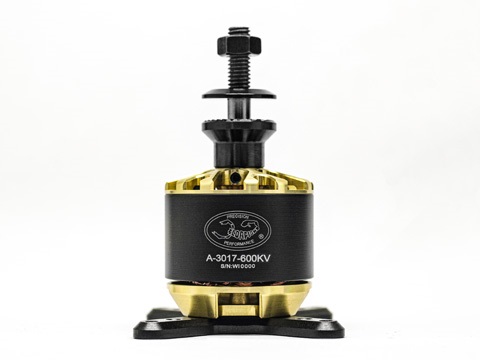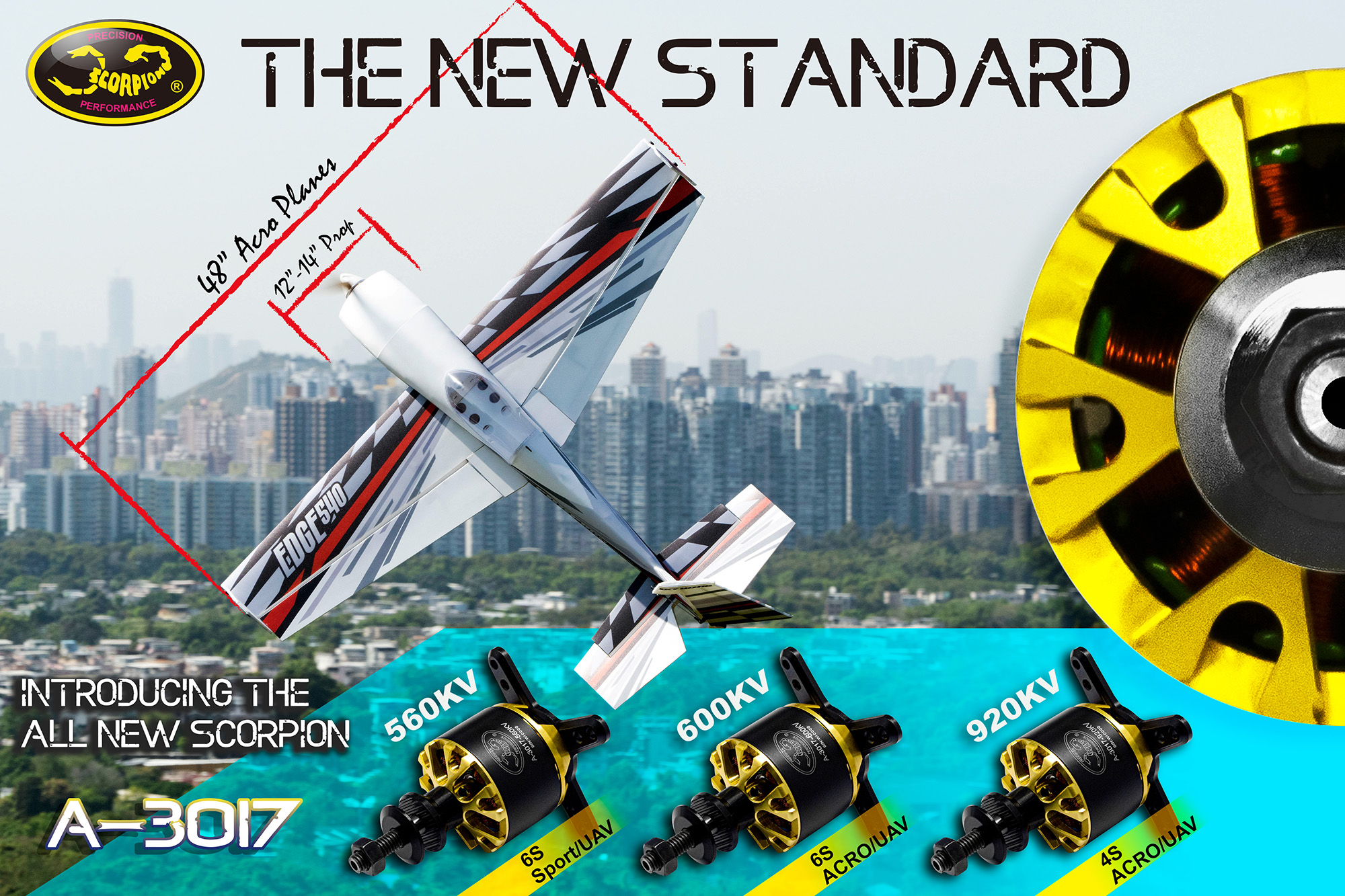 Product Description
The Scorpion A - Series line of motors was designed to be the most optimal and premier choice of motor for your freestyle or UAV airplane. Unlike most motors on the market, who choose one motor / magnet design, and then only change the windings to achieve different KV's (which usually provides one KV range with good results, and average results for the other KV ranges). On the A - series motors we looked at each kv / power range individually. We choose the most optimal magnetic design for each individual kv and implemented it, so that each KV version has the best possible Performance and Efficiency .
The performance and efficiency results are unlike anything we have seen before!
The A-3017 series was designed specifically for 48" Acrobatic Airplanes, or other Sport / UAV airplanes requiring up to 962w of power. Also known as the 30-32E size. For the A-3017 we offer 3 x kv ranges of 560 / 600 / 920 for various applications and various voltage ranges. The 600kv being the premier high power choice for 6s powered 48" Acrobatic Planes or suitable UAVs.
Recommended Prop Selection : :
- 12x6 / 12x7 = Efficiency
- 13x6 = Optimal
- 13x6.5 / 14x6 = High Alt
Recommended ESC - : Tribunus 06-80A ESC SBEC
Acrobatic Weight Range (600kv) - : 1.3kg - 2.18kg (46oz - 77oz)
Sport / UAV (single engine) Weight Range (600kv) - : 2.3kg - 5.03kg (81.1oz - 177.6oz)
Scorpion Power System - A-3017 {Official Promo Video}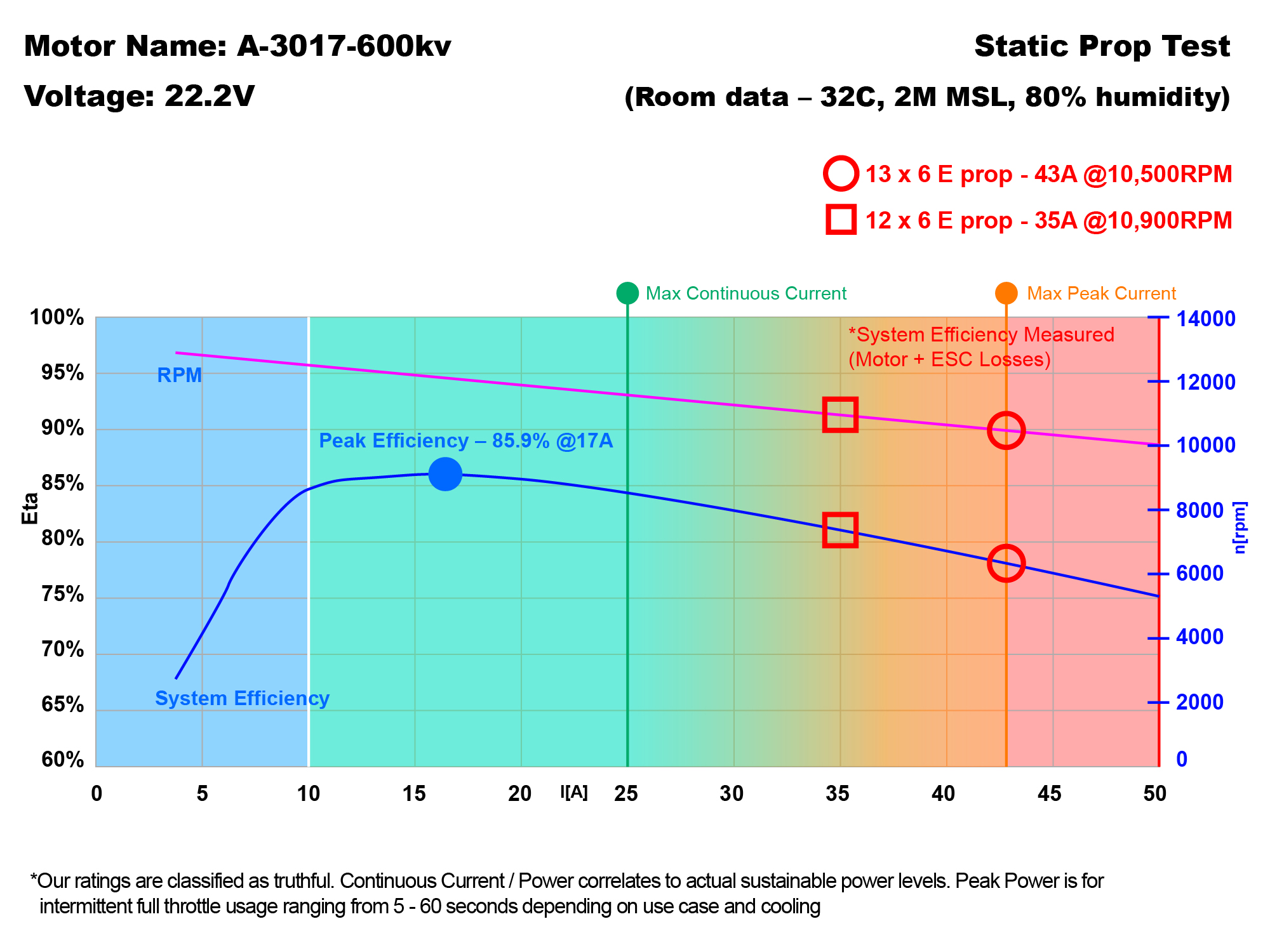 Specifications
Motor Kv

600 RPM / Volt

Weight (Motor only)

136g (4.80 oz)

Weight (including mount + accessories)

154g (5.43 oz)

Motor Body Dimensions

36.60 mm x 36.5mm (1.44" x 1.44")

External Shaft Diameter

5.98mm

Continuous Current

25A

Continuous Power

555 Watts

Peak Current

43A

Peak Power

962 Watts

Max Rated Lipo Cell**

6s

Stator Diameter

30.0 mm (1.18 in)

Stator Thickness

17 mm (0.67 in)

No. of Stator Arms

12

Magnet Poles

14

Motor Wind

9T/10T Delta

Motor Wire

8-Strand x 0.25

No-Load Current (IO/15V)

0.99 Amps

Motor Internal Resistance (phase-phase)

50 mΩ

Motor Inductance (phase-phase) @ 1khz

19.0µH

*Our ratings are classified as truthful. Continuous Current / Power correlates to actual sustainable power levels. Peak Power is for intermittent full throttle usage ranging from 5 - 60 seconds depending on use case and cooling*

**Higher Cell Count possible with smaller prop usage**
Included in the Box
1 x A-3017 Motor with prop washer & nut
1 x 44/58mm Cross Mount + Screws
3 x Female Bullet Connectors + heatshrink
3 x Scorpion Stickers
16 x 3x10x1mm thrust spacing washers
4 x M3x10 moutning screws
4 x M3x16 mounting screws
Weight including packaging
252g
Full Dimension