Scorpion S-2503-1610KV (F3P Special)
[S2503_1610]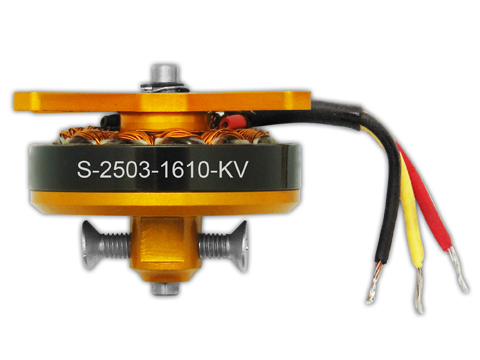 Product Description
The Scorpion S-25 Series motor is designed to be the ultimate competition motor for the indoor F3P planes. This motor is designed to run on a 2-cell Li-Po battery pack, and when teamed up with a Scorpion 11 amp ESC, provides a potent power system for your indoor model. The S-25 Series motor features a Titanium Main shaft, and tips the scales at a scant 20 grams (0.69 ounces). This motor was optimized to work with props such as the GWS 8x4DD, which are so popular with the indoor fliers.
Scorpion Competition Series Brushless Motors are built from the best materials available, and are designed to provide both quality and performance at an affordable price. Scorpion starts with high quality aluminum alloy parts that are produced on the latest CNC milling machines. These parts are then gold anodized to provide a beautiful, long-lasting finish. The stators are made with 0.2mm laminations to give maximum efficiency, and minimum Eddy current losses. The stators are epoxy coated to prevent shorts, and are wound with wire that is rated at 180 degrees C (356 F). The magnets used in Scorpion Motors are rated for operation at 200 degrees C (392 F), making a motor that is virtually impossible to burn up in normal use.
Scorpion Motors are built to last, and are backed with a 2-Year warranty against defects in materials or workmanship. For the best overall combination of quality, performance, and value, give Scorpion Motors a try!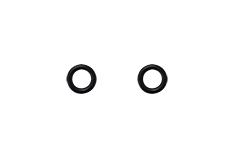 Specifications
| | |
| --- | --- |
| Stator Diameter | 25 mm (0.98 in) |
| Stator Thickness | 3 mm (0.12 in) |
| No. of Stator Arms | 12 |
| No. of Stator Poles | 16 |
| Motor Wind | 26 Turn Wye |
| Motor Wire | 5-Strand 0.21 mm |
| Motor Kv | 1610 KV RPM/Volt |
| No-Load Current (Io/10V) | 0.35 Amps |
| Motor Resistance (RM) | 0.180 Ohms |
| Max Continuous Current | 10 Amps |
| Max Continuous Power | 72 Watts |
| Weight | 20.0 Grams (0.71 oz) |
| Outside Diameter | 30.1 mm (1.18 in) |
| Shaft Diameter | 2.98 mm (0.12 in) |
| Body Length | 20.57 mm (0.81 in) |
| Overall Shaft Length | 25.7 mm (1.01 in) |
| Max Lipo Cell | 2s |
| Max Peak Current | 13A (10 seconds) |
| Max Peak Power | 94 Watts (10 seconds) |
| Shaft Material | Titanium |
| Motor Timing | 5deg |
| Drive Frequency | 8kHz |
Included in the Box
1 x Scorpion S2503-1610KV Motor
2 x rubber O-rings

* Gold connectors are not soldered and included
Weight including packaging
146.4g
Full Dimension