Scorpion Z-1410-6000KV
[Z_1410_6000]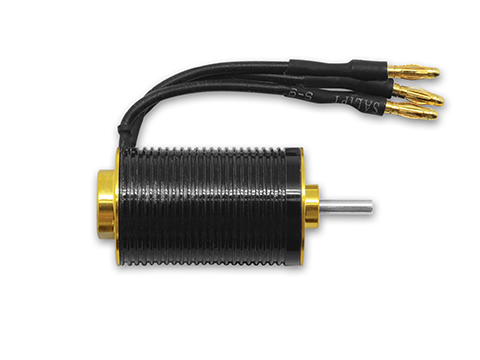 Sorry, this product is currently out of stock and can not be ordered.
Product Description
Suitable for Kyosho Mini-Z brushless system, Atomic AMZ and other mini-z type car.
6000kv provide higher torque for short course with better efficiency of acceleration.
9000kv provide extremely high top speed suitable for long course having a large section of straight road.
Specifications
| | |
| --- | --- |
| Stator Diameter | 14 mm(3.15 in) |
| Stator Thickness | 10 mm(1.57in) |
| No.of stator Arms | 3 |
| No.of stator Poles | 2 |
| Motor Wind | 62 Turn Delta |
| Motor Wire | 3-Strand 0.19 mm |
| Motor Kv | 6000 RPM/Volt |
| NO-Load Current(IO/6V) | 0.38 Amps |
| Motor Resistance(RM) | 0.265 Ohms |
| Max Continuous Current | 8 Amps |
| Max Continuous Power | 57 Watts |
| Weight | 19.8 Grams (0.59oz) |
| Outside Diameter | 15.99 mm (0.79 in) |
| Shaft Diameter | 1.98mm (0.08 in) |
| Body Length | 29.8 mm (1.17 in) |
| Ovrall Shaft Length | 37 mm (1.46in) |
Weight including packaging
40g
Full Dimension