Scorpion Commander V 59V 160A ESC (OPTO)
[14s_160a_esc]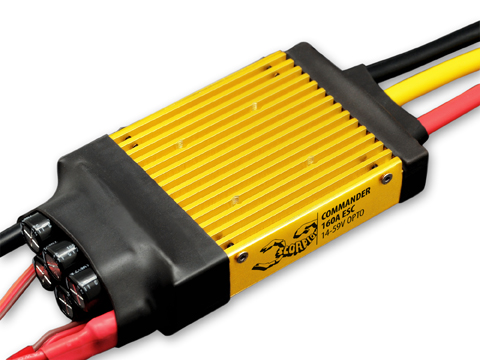 Product Description
This new generation of ESC has power stability to 160Amp and Voltage range up to 59V, 14s LiPo battery! It features an excellent built-in internal governor, and also supports external governor. Commander V 59V 160A ESC is armed with aluminum case in Scorpion signature Gold for better cooling. On top of the ESC, four screw holes are pre-drilled for easy installation for Scorpion Hi-speed Cooling fan. As a result of all these wonderful features, this state of the art Commander V 59V 160A ESC delivers excellent performance and handles extreme continuous current like no other ESC!
Low Voltage Cut-off (14V to 48V at 1.0V increments) no need to select battery type just set the voltage the ESC should work on, by doing this, the ESC will be compatible with any future type of battery designs.
LVC= LOW VOLTAGE CUT : 140(14V) TO 480(48V).
BRK= BRAKE SETTING: 1: NO BRAKE, * 2: VERY SOFT BRAKE, 3: SOFT BRAKE, 4: HARD BRAKE, 5: VERY HARD BRAKE
AIR= 1: Activate Airplane mode, 2: External Governor mode
PCT= PROGRAM CUT TYPE (LVC TYPE): 1: CUT 50%*, 2: NO CUT JUST LED WARNING, 3: PULSE WARNING
MAT= MOTOR ACCELERATION TIME DELAY: 1: 0.15 Seconds* (recommend for AIR 2), 2: 0.3 Seconds, 3: 0.45 Seconds, 4: 0.7 Seconds, 5: 1.3 Seconds
CAR/B= DISABLED
COP= CURRENT OVERLOAD PROTECTION: 1: SENSITIVE*, 2: NORMAL, 3: INSENSITIVE
FREQ= DRIVE FREQUENCY: 1: 8 kHz *
SS= 1: SOFT START WITH OUT GOVERNOR MODE*, 2: SOFT START WITH GOVERNOR
TIM= MOTOR TIMING: 1: AUTO TIMING*, 2: 5 Degrees (Recommend for GOV 1), 3: 15 Degrees, 4: 20 Degrees, 5: 25 Degrees, 6: 30 Degrees
P Gain = POWER GAIN: 1 to 11 (SOFT to HARD), DEFAULT: 5*
I Gain = INTEGRAL GAIN: 1 to 8 (INSENSITIVE to SENSITIVE), DEFAULT: 5*
Specifications
| | |
| --- | --- |
| Weight (Without Connectors) | 240g (8.46 oz) |
| Max Continuous Current | 160 Amps |
| Peak Current | 200Amps/1s |
| Operating Voltage Range | 14-59V Volts |
| Max BEC Output | No BEC |
| On Resistance | 0.43 mOhms |
| Size | 100 x 53 x 25 mm (3.93 x 2.08 x 1.00 in) |
Included in the Box
1 x Scorpion Commander V 59V 160A ESC (OPTO)
1 x Scorpion IR Transmitter (Programming Card)
1 x Scorpion IR Receiver
1 x Instruction Manual
Weight including packaging
627g