Scorpion HKII-4225-550KV Limited Edition
[HKII_4225_550]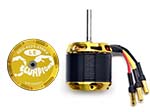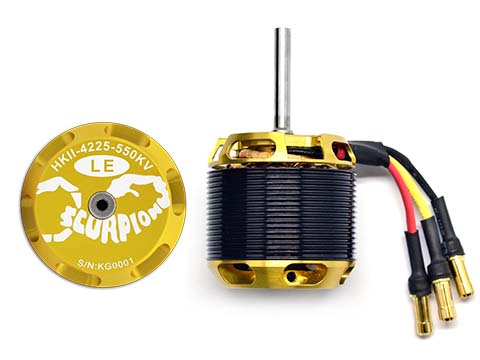 Product Description
With the trend of ultra light weight 700 size models on the rise, the market called for a light weight, yet ultra powerful motor. So Scorpion brought back the HKII-4225-550kv for a Limited Edition run! Sized directly between our proven HKIV-4025 and HKII-4525 motors in terms of weight and power, and LIGHTER yet MORE powerful then our competitors 4030 motors, this motor represents the most technologically advanced power source ever offered for an electric helicopter. Each of the new HKII-4225 Limited Edition motor is hand wound with a single strand of 1.35mm wire for the highest possible efficiency. This motor is capable of running continuously at an input power of 3550 watts at 80 amps, and can handle peak inputs of 5770 watts and 130 amps. Perfect for a Light weight 700 size, or monster 600 size power system on 12s.
Scorpion Competition Series Brushless Motors are built from the best materials available, and are designed to provide both quality and performance at an affordable price. Scorpion starts with high quality aluminum alloy parts that are produced on the latest CNC milling machines. These parts are then gold Electro-Plated to provide a beautiful, long-lasting finish. The stators are made with 0.2mm laminations to give maximum efficiency, and minimum Eddy current losses. The stators are epoxy coated to prevent shorts, and are wound with wire that is rated at 180 degrees C (356 F). The magnets used in Scorpion Motors are rated for operation at 200 degrees C (392 F), making a motor that is virtually impossible to burn up in normal use.
Scorpion Motors are built to last, and are backed with a 1-Year warranty against defects in materials or workmanship. However, due to the high RPM of these motors, and the fact that we cannot control the installation and setup, the bearings are not covered by the 1-Year warranty, nor is any subsequent damage caused to the motor by a bearing failure. Bearings are a normal wear item, and as such, need to be maintained and changed periodically. For maximum life, make sure that a sufficient gap is left between the pinion and main gear during motor installation to avoid binding, and put a small drop of oil on each bearing every 5-6 flights. It is the responsibility of the pilot to ensure that the bearings are maintained properly.
For the best overall combination of quality, performance, and value, use Scorpion Motors in your helicopter!
*This motor is using 30mm bolt spacing on the mounting
HK Patent No. : HK1141674
China Patent No. : ZL2010 2 0298704.9
Taiwan Patent No. : M399539
U.S Patent No. : Pending
All Others Worldwide Patent : Pending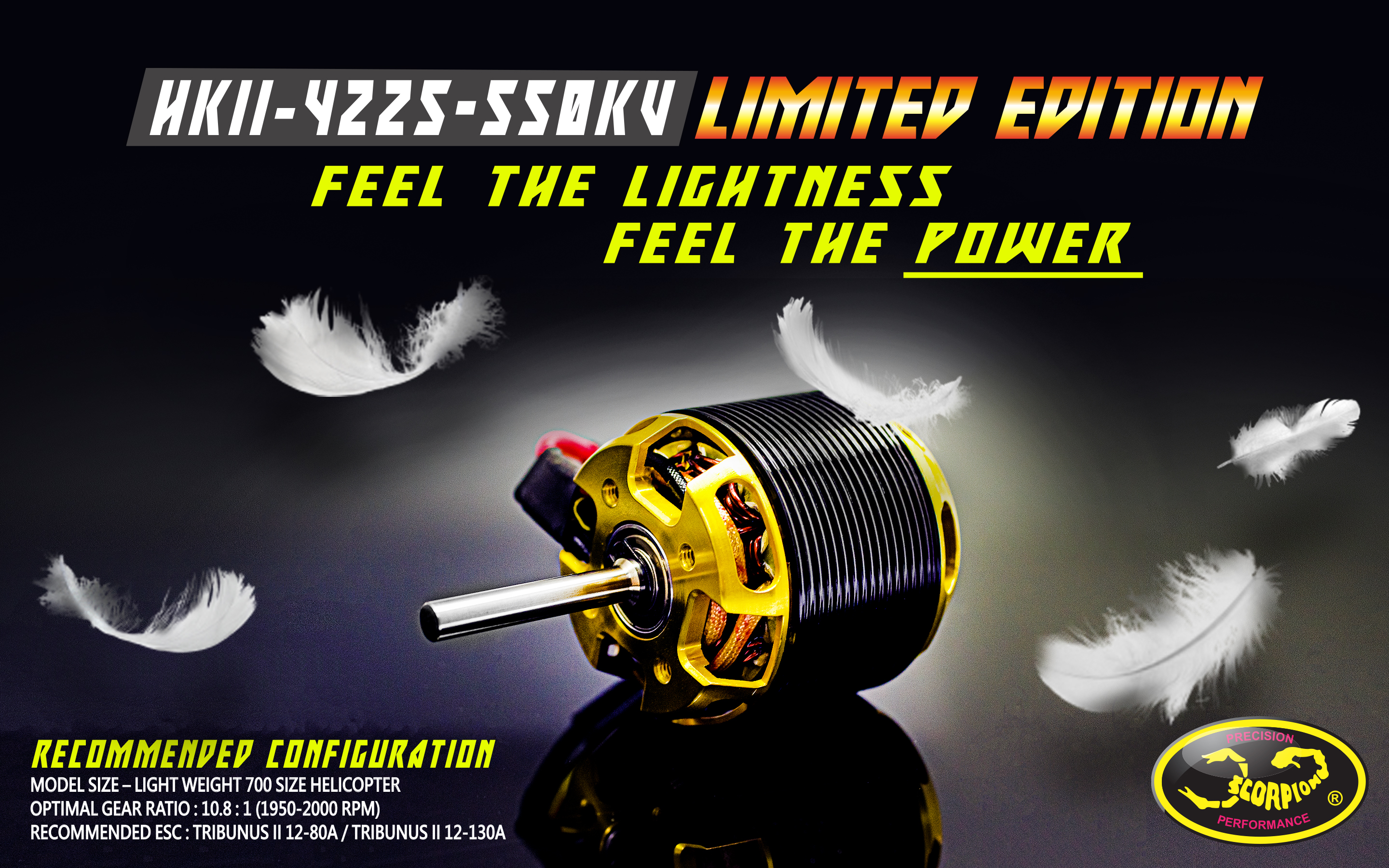 Specifications
| | |
| --- | --- |
| Stator Diameter | 42 mm (1.65 in) |
| Stator Thickness | 25 mm (0.98 in) |
| No. of Stator Arms | 12 |
| No. of Stator Poles | 10 |
| Motor Wind | 10 Turn Delta |
| Motor Wire | 1-Strand 1.35 mm |
| Motor Kv | 550KV RPM/Volt |
| No-Load Current (Io/10V) | 1.77 Amps |
| Motor Resistance (RM) | 0.016 Ohms |
| Max Continuous Current | 80 Amps |
| Max Continuous Power | 3550 Watts |
| Weight | 393 Grams (13.77 oz) |
| Outside Diameter | 52.3 mm (2.06 in) |
| Shaft Diameter | 5.98 mm (0.24 in) |
| Body Length | 51.50 mm (2.03 in) |
| Overall Shaft Length | 91.5 mm (3.60 in) |
| Max Lipo Cell | 12s |
| Max Peak Current | 130 Amps (5 seconds) |
| Max Peak Power | 5770 Watts (5 seconds) |
| Motor Timing | 5deg |
| Drive Frequency | 8kHz |
Included in the Box
* Gold connectors are not soldered nor included
Weight including packaging
660g
Full Dimension
View Scorpion HKII-4225-550KV Limited Edition Full Dimension