Scorpion HKII-7050-330KV
[II_7050_330]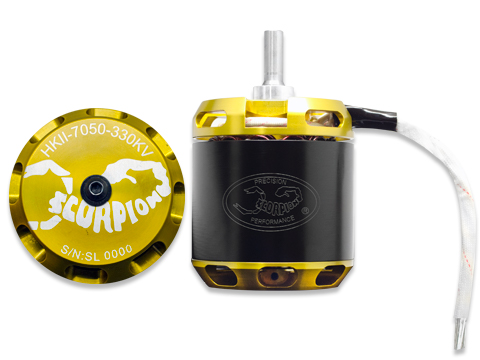 Product Description
The Scorpion HKII-7050-340KV motor provides 10KW of maximum continuous power and with maximum of 200Amp current, can apply on large application such as e-bike, e-boat or large UAV.
The Scorpion Brushless Motors are built from the best materials available, and are designed to provide both quality and performance at an affordable price. Scorpion starts with high quality aluminum alloy parts that are produced on the latest CNC milling machines. These parts are then gold anodized to provide a beautiful, long-lasting finish. The stators are made with 0.2 mm laminations to give maximum efficiency, and minimum Eddy current losses. The stators are epoxy coated to prevent shorts, and are wound with wire that is rated at 180 degrees C (356 F). The magnets used in Scorpion Motors are custom manufactured to be able to withstand high temperatures, making a motor that is virtually impossible to burn up in normal use.
Scorpion Motors are built to last, and are backed with a 2-Year warranty against defects in materials or workmanship. However, due to the high RPM of these motors, and the fact that we cannot control the installation and setup, the bearings are not covered by the 2-Year warranty, nor is any subsequent damage caused to the motor by a bearing failure. Bearings are a normal wear item, and as such, need to be maintained and changed periodically. For maximum life, make sure that a sufficient gap is left between the pinion and main gear during motor installation to avoid binding, and put a small drop of oil on each bearing every 5-6 flights. It is the responsibility of the pilot to ensure that the bearings are maintained properly.
For the best overall combination of quality, performance, and value, use Scorpion Motors in your system!
IMPORTANT:
This motor is designed primarily for RC hobby applications however can be used for other non-hobby, commercial applications. For non-hobby and commercial applications, the power requirement and ESC selection for this motor may vary drastically depending on the actual usage. If you plan to implement this motor for non-hobby and customized commercial applications, we recommend you contact us for further consultation in order to build a more suitable overall power system for your needs. Our email is: support@spihk.com. Thank you.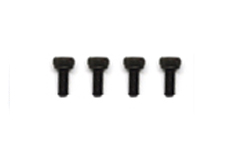 Specifications
| | |
| --- | --- |
| Stator Diameter | 70 mm (2.76 in) |
| Stator Thickness | 50 mm (1.97in) |
| No. of Stator Arms | 12 |
| Magnet Poles | 10 |
| Motor Wind | 3 Turn Delta |
| Motor Wire | 2- Strand 1.8mm |
| Motor Kv | 330KV RPM / Volt |
| No-Load Current (IO) | 3.6 Amps @ 10v |
| Motor Resistance (RM) | 0.005 Ohms |
| Max Continuous Current | 200 Amps |
| Max Continuous Power | 10000 Watts |
| Weight | 1915 Grams (67.57 oz) |
| Outside Diameter | 82.4 mm (3.24 in) |
| Shaft Diameter | 9.98 mm (0.39 in) |
| Body Length | 92.2 mm (3.63 in) |
| Overall Shaft Length | 126 mm (4.96 in) |
| Max Voltage | 50V |
| Peak Current | 300 (5 seconds) |
| Peak Power | 15000 Watts (5 seconds) |
| Motor Timing | 5deg |
| Drive Frequency | 8kHz |
| Torque per Amp | 2.91 Ncm/A |
Weight including packaging
2400g
Full Dimension