Scorpion M-4215-320kv
[m_4215_320]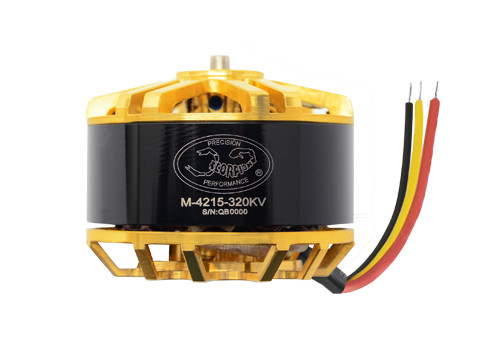 Product Description
Scorpion is proud to announce our latest high performance M series motor for large scale UAV. New technology of using 1.12mm SINGLE STRAND winding to deliver 1110 Watts maximum continuous power on 10s Power. Each motor deliver 3,675g maximum thrust with using 18x6 propellers in 6S, capable to hovering an 8-rotors UAV in a total weight of 14.7kgs.
Scorpion M-4215-320kv has been specifically constructed to perform less vibration overall, and to give an extreme performance to carry load of professional equipment for aero photography.
It suitable for two types of propeller which has space 12mm screw hole and 6mm & 8mm inner diameter.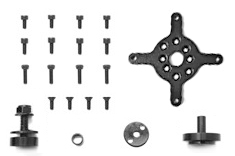 Specifications
| | |
| --- | --- |
| Stator Diameter | 42 mm(1.54 in) |
| Stator Thickness | 15 mm(0.59 in) |
| No.of stator Arms | 12 |
| No.of stator Poles | 14 |
| Motor Wind | 8T Turn Y |
| Motor Wire | 1-Strand 1.12 mm |
| Motor Kv | 320KV RPM/Volt |
| NO-Load Current(IO/10V) | 0.49 Amps |
| Motor Resistance(RM) | 0.062 Ohms |
| Max Continuous Current | 30 Amps |
| Max Continuous Power | 1110 Watts |
| Weight | 223 Grams (6.80oz) |
| Outside Diameter | 51.2 mm (2.02 in) |
| Shaft Diameter | 5.98 mm (0.19 in) |
| Body Length | 38 mm (1.50 in) |
| Ovrall Shaft Length | 37.8 mm (1.49 in) |
| Max Lipo Cell | 10s |
| Peak Current | 40 Amps (2 seconds) |
| Peak Power | 1480 Watts (2 seconds) |
| Motor Timing | 5deg |
| Drive Frequency | 8kHz |
Weight including packaging
550g
Data Chart
View Scorpion M-4215-320kv Data Chart
Full Dimension