Scorpion High Performance Tools Pack (16 pieces)
[tools_pack_16]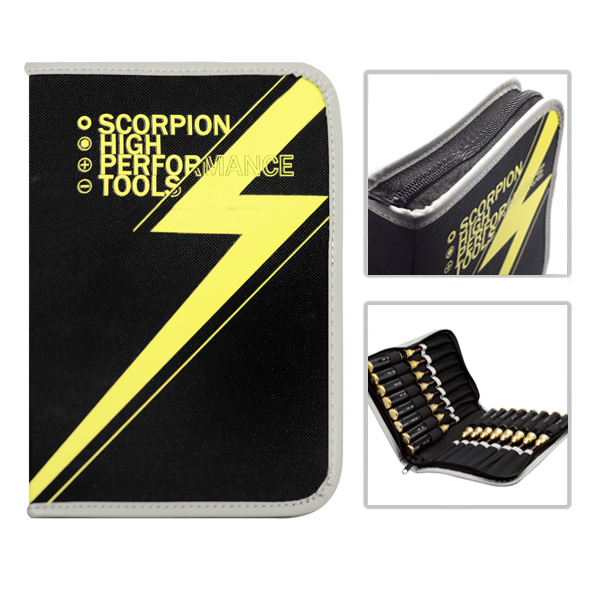 Sorry, this product is currently out of stock and can not be ordered.
Notify me when this item is back in stock
Product Description
Good news to all RC enthusiast, let us introduce to you: Scorpion High Performance Tools.
We understand how important it is for RC enthusiast to have the tools with you guys on the field. Swapping parts on and off, getting the right parts and setting for your RC car, helicopter or airplane to get the best performance. Scorpion High Performance Tools is designed with RC enthusiast in our mind, the hollow core with aluminum alloy design allow us to make the tools very light weight without losing strength and durability.
Included in the bag:
Scorpion High Performance Tools - 1.5mm Hex Driver x1
Scorpion High Performance Tools - 2.0mm Hex Driver x1
Scorpion High Performance Tools - 2.5mm Hex Driver x1
Scorpion High Performance Tools - 3.0mm Hex Driver x1
Scorpion High Performance Tools - 4.0mm Hex Driver x1
Scorpion High Performance Tools - 5.5mm Nut Driver x1
Scorpion High Performance Tools - 7.0mm Nut Driver x1
Scorpion High Performance Tools - 8.0mm Nut Driver x1
Scorpion High Performance Tools - 3.0mm Flat Screwdriver x1
Scorpion High Performance Tools - 4.0mm Flat Screwdriver x1
Scorpion High Performance Tools - 4.0mm Phillips Screwdriver x1
Scorpion High Performance Tools - 5.0mm Phillips Screwdriver x1
Scorpion High Performance Tools - 1.5mm Round Head Hex Driver x1
Scorpion High Performance Tools - 2.0mm Round Head Hex Driver x1
Scorpion High Performance Tools - 2.5mm Round Head Hex Driver x1
Scorpion High Performance Tools - 3.0mm Round Head Hex Driver x1
Specifications
Tools bag:
-600 Denier Polyester
-#5 Zipper
-PVC Binding
-Included 16 pcs tools
-Product Size: 235 x 170 x 30mm (folded)
Tools:
-Ultra light weight hollow core design
-Handle made by Aluminum Alloy
-Screwdriver head made by HSS(High Speed Steel), build for wear and distortion
-Anodized aluminum handles with knurled grip
-Professional quality
Weight including packaging
800g