New Release !!! Scorpion Tribunus II+ 14-200A ESC SBEC
04.08.2021
Since the first release of Tribunus 14-200A ESC in February 2017 and the subsequent release of Tribunus II 14-200A in February 2018, the Scorpion Tribunus ESC series especially in the 200A ESC and 700-800 class space have proven to be a giant success among top pilots and hobby enthusiasts around the world.
Throughout the first and second generation of Tribunus 14-200A, we have always been collecting pilot and user feedbacks. We form partnership and work in-depth with other industry leading brands to bring more integration between our ESCs and other radio-controlled products. And as the Tribunus ESC line expands from 80A to 300A, we have also gained significant experience from our other Tribunus ESCs. Overall, the effort, knowledge and works are aimed to improve our flagship Tribunus 14-200A ESC line.
To continue this success and bring more innovation to the market, we are proud announce our all-new Scorpion Tribunus II+ 14-200A ESC SBEC!
Just to name a few extraordinary new features it brings along:
- Newly added USB port for PC connection with/without a main power source
- Improved BEC Protection
- Futaba telemetry support without additional adaptor
- Android apps supported to allow you to configure or update the ESC via USB port without main power source
- Log file is available to download through Android apps
Other equally exceptional new features are:
- Improved BEC current and voltage drop for high amps servos. 0.8v drop on 20a
- Added gear ratio and motor poles settings for Jeti and Futaba telemetry
- Increased log size to 64kB
- Optimized current protection
- More PC motor control function
It is now available to order.
MSRP: USD479.99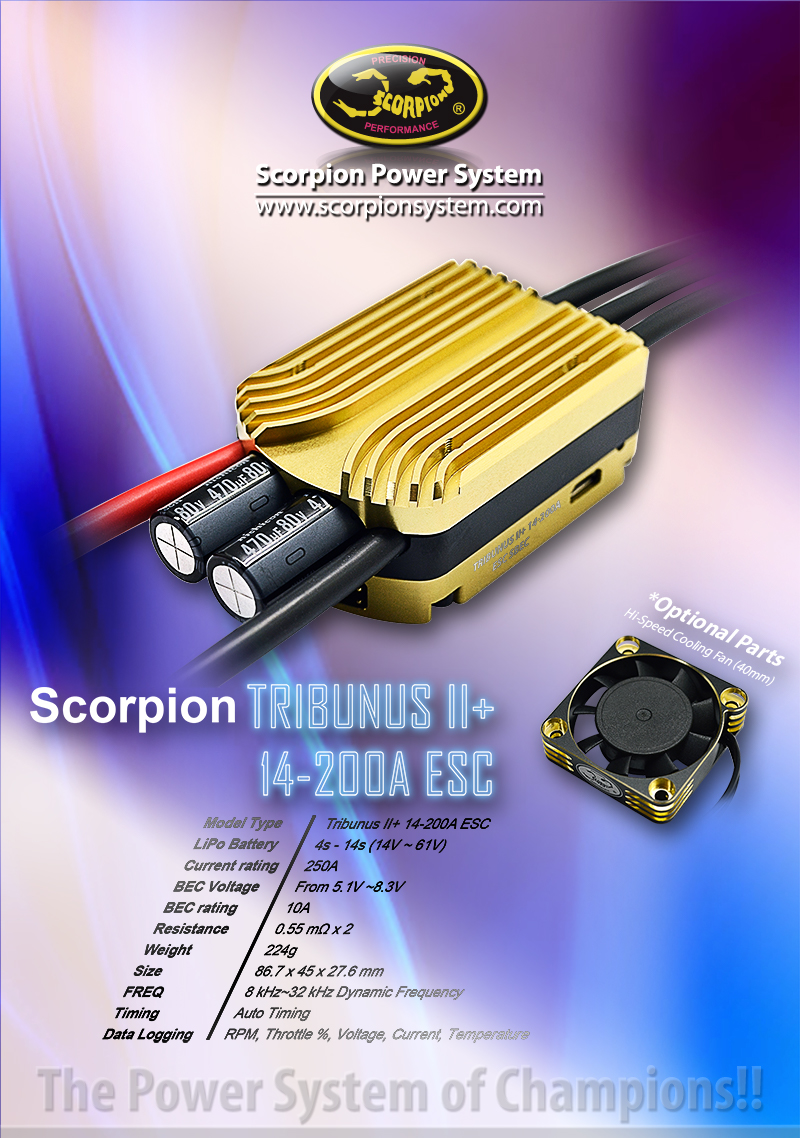 Specifications:
Max Continuous Current | 200 Amps
Peak Current | 250Amps
Operating Voltage Range | 14-61 Volts
BEC Output voltage: | 5.1V to 8.3V adjustable.
Max Continuous BEC Output | 10 Amps @ 8.3 V
Peak BEC Output | 20 Amps/1s @ 8.3 V
On Resistance | 0.55 mOhms *2
Size | 86.7 x 45 x 27.6 mm (3.41 x 1.77 x 1.08 in)
Weight (Without Connectors) | 224g (7.9 oz)
Drive frequency | 8kHz - 32kHz
Cable gauge | 10 AWG
Scorpion Tribunus II+ 14-200A - User Manual
Scorpion Tribunus Heli Program Sproto
Scorpion V Link II Cable CH340 Driver (For all ESC use)
How to update Tribunus firmware
Using Scorpion Tribunus ESC with Futaba Telemetry
How to DIY your own Telemetry/setup cable for the Tribunus ESCs – Vbar NEO
How to DIY your own Telemetry/setup cable for the Tribunus ESCs – Jeti
DIY your spark suppressor system on a ESC