Scorpion Backup Guard II (Power Board)
[BG2_PB]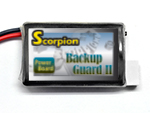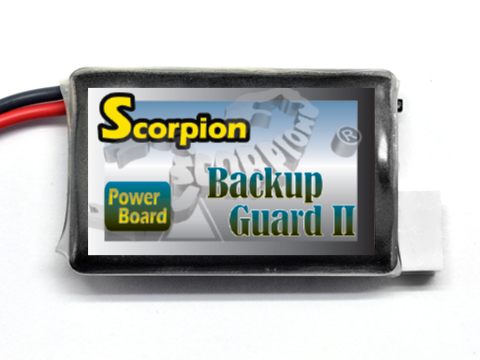 Product Description
In 2012 we released the first generation of the Scorpion Backup Guard, and its function was to help save helicopters if they happened to lose power from the ESC/BEC. After many years we decided to bring a new design to our customers!
Today, Scorpion is proud to introduce the next generation of this product, the "Backup Guard II"
This New Backup Guard II is much stronger than its predecessor, with many new features as well!
One new extraordinary feature is the Charge Mode. This means that the Backup Guard II can charge up the Backup Battery, with balancing, while it is operating. Charging rate will be 0.5A. This means you will no longer need to charge the Backup Battery ever again!
The Backup Guard II is now only the "Power Board" and you can connect your own size of 2s Lipo with JST-XHR Connector.
The Backup Guard II provides DC 5V with 10Amp Output, which is enough to land the aircraft if the ESC/BEC has some failure.
The Second-generation of Backup Guard II has 4 LED that will indicate the status.
-Charging mode.
-BEC lower than 5.5V.
Specifications
Weight : 10grams (without battery)
Dimension: 44mm x 25.2mm x 10.5mm
Li-Po inpit: 2S/7.4V (500~1000mah)
Output: DC 5V/ 10 Amp Continues Current.
Charging Plug: JST-XHR
Weight including packaging
15g