Scorpion SII-5535-190KV
[SII-5535-190KV]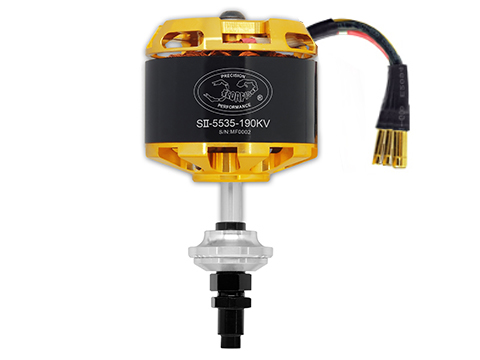 Product Description
Scorpion SII-55 series is the second generation of high efficiency electric motor from Scorpion that are widely used in the size of 50cc airplane, with proven technology in new magnet configuration and housing design to provide higher efficiency, higher power, less eddy current losses with lower internal resistance than our previous S-55 series.
Scorpion starts with premium material with high quality aluminum alloy parts that are produced on the latest CNC milling machines. These parts are then gold Electro-coated to provide a beautiful, long-lasting finish. The stators are made by top grade 0.35mm laminations to give maximum efficiency, and minimum Eddy current losses. The stators are epoxy coated to prevent shorts, and are wound with wire that is rated at 180 degrees C (356 F). The magnets used in Scorpion Motors are custom manufactured to be able to withstand high temperatures.
Scorpion Motors are built to last, and are backed with a 1-Year warranty against defects in materials or workmanship.
HK Design Patent No. : 1201208.6
CN Design Patent No. : 201230267986.0
Taiwan Design Patent No.: 101303643
All other worldwide Patent: Pending
Suggestion :
This motor is perfect for any 50-70cc airframes, or aerobatic airplanes with Wingspan of 85-95" running on 12s batteries.
Recommended set up :
ESC - Tribunus 12-130A SBEC ESC
Battery - 12s 4500-5500mah
Prop - 23x10E , 24x10E
Flight Demo: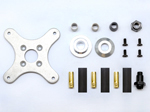 Specifications
| | |
| --- | --- |
| Stator Diameter | 55mm (2.165 in) |
| Stator Thickness | 35mm (1.378 in) |
| No. of Stator Arms | 12 |
| Magnet Poles | 14 |
| Motor Wind | 14 Turn Delta |
| Motor Wire | 23-Strand 0.33mm |
| Motor Kv | 190 RPM / Volt |
| No-Load Current (Io/10V) | 1.24 Amps |
| Motor Resistance (Rm) | 0.022 Ohms |
| Max Continuous Current | 95 Amps |
| Max Continuous Power | 3900 Watts |
| Weight | 906 Grams (29.41 oz) |
| Outside Diameter | 66.4 mm (2.614 in) |
| Shaft Diameter | 7.98 mm (0.314 in) |
| Thread size | M8*1.0 |
| Body Length | 69.52 mm (2.737 in) |
| Overall Shaft Length | 116 mm (4.567 in) |
| Max Peak Current | 140 Amps |
| Max Peak Power | 5800 Watts |
| Max Lipo Cell | 12s |
| Motor Timing | 5deg |
| Drive Frequency | 8kHz |
Included in the Box
1x Scorpion SII-5535-190Kv Motor
3x Female Connectors
3x Heat Shrink
1x Cross Motor Mount
4x Screw
1x Thrust washer
1x tapered collar
1x spacer collar
1x Prop washer
1x Prop nut
2x Nut lock
Weight including packaging
1800g
Data Chart
View Scorpion SII-5535-190KV Data Chart
Full Dimension