New Release!!! A newest generation of ESC, Scorpion Tribunus 06-120A ESC OPTO, a special ESC for 6S use!!
08.12.2016
Scorpion Power System is proud to announce the newest generation of Electronic Speed Controls. The brand new Scorpion Tribunus 06-120A ESC OPTO version has just been released to the public, and you'll want to own one! It is specifically built for use with a 6S LiPo battery, supporting 400mm to 550mm class helicopters, and 6S powered airplanes. With our new governor design, internal and external are also available. Built-in protection like current, voltage, temperature, capacity protection and more will keep your ESC and aircraft safe. Enjoy new features such as data logging, Morse code indications, Android apps support, telemetry, and even remote settings compatible with Mikado V Control and more. Why fly old technology when you can be the first person in town to use the latest and greatest!
With the new V Link II cable (Optional) supported by Windows XP, Windows 7,8 and 10, you can always keep your ESC updated with the latest firmware, and make changes to your settings with ease!
From now until December 31st 2016, ALL Tribunus 06-120A ESC's purchased will include the new V Link II cable for quick updates and tuning. Stay ahead of the competition and order your new ESC now!


Available now!
MSRP: USD 119.99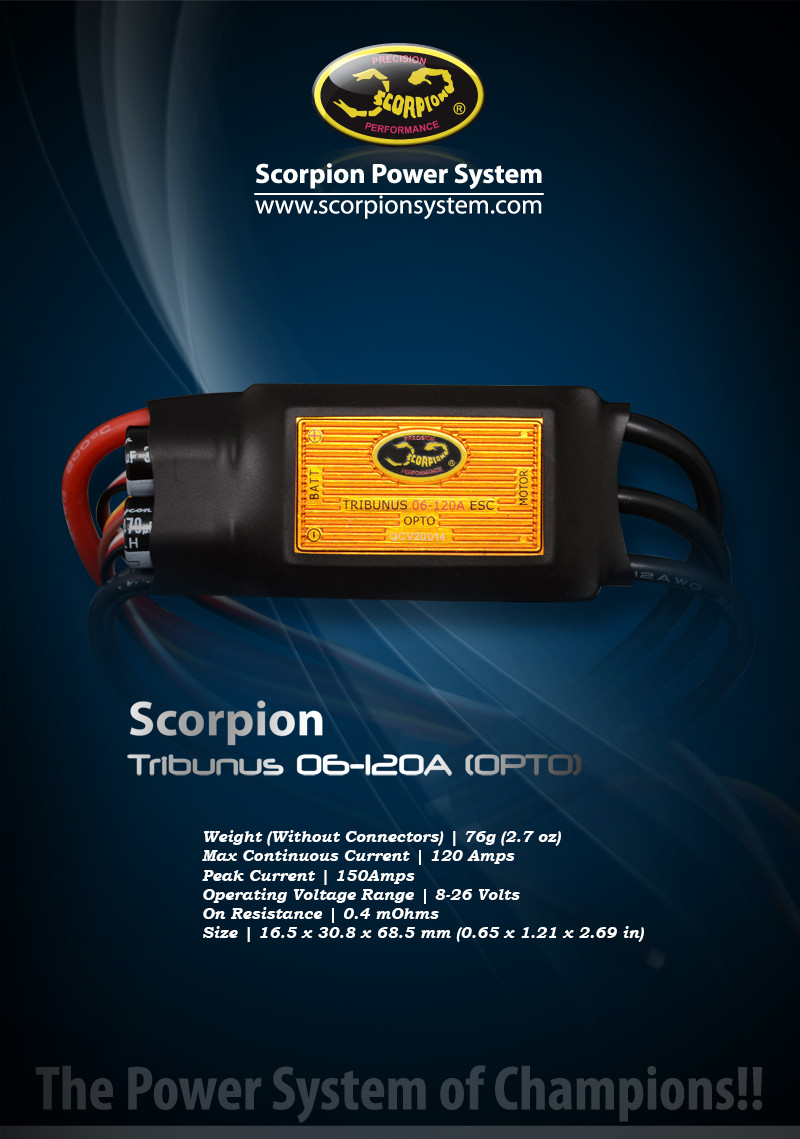 ** Scorpion Tribunus 06-120A - User Manual
** Scorpion Tribunus Heli Program(V Link II cable driver included)
** Scorpion V Link II Cable CH340 Driver (For all ESC use)
** How to DIY your own Telemetry/setup cable for the Tribunus ESCs – Vbar NEO