Scorpion Tribunus II 12-130A ESC SBEC (2022 edition)
[II_12_130_2022]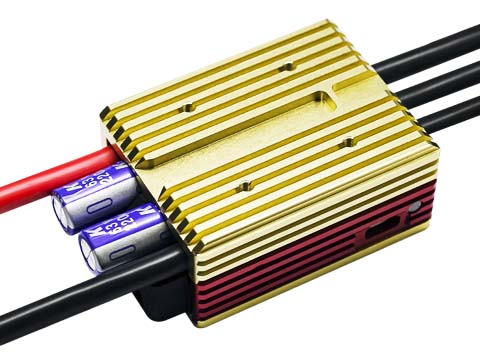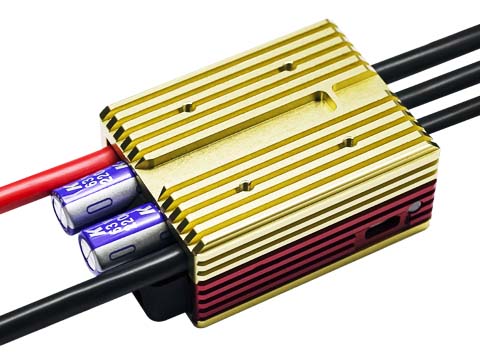 Product Description
The Tribunus II 12-130A has proven to be one of our most versatile and capable ESCs. Bridging the gap between medium to large size HV models it is a perfect mix of lightweight and economic, yet very capable. When looking at ways to improve this product from previous versions, the list of possibilities was very short, it was nearly perfect before. However, we have improved the PCB components and tuned the firmware to make the capacity measurement even more precise. Then we have added a 30mm cooling fan (which connects easily to your RX / Gyro system) and improved the case design to help direct the generated air towards the heat sensitive components. Cooler temperature increase the life span, and lower the chance of failures in the long run!
Airplane and Heli mode,
Stored and unstored Governor, external governor.
Data Logging, Data output port for external data logging device, such as Mikado V control / Vbar combinations. Jeti Telemetry , JLog 3 and Futaba.
ESC setup can be set by Mikado V control Radio.
PC connectivity with USB micro cable (not included), Android connectivity ( OTG cable needed) , V link II Cable, plus Diode adaptor cable sold separately for optional use.
Scorpion Tribunus ESC {Tutorial} - Connecting to PC or MAC + Downloading SProto + Firmware Updates. Produced by Kyle Dahl
Mikado Proving Ground Produced by Kyle Dahl
Bobby Watts show you how to set up the Tribunus 14-200A ESC and Demonstration flight by Kyle Stacy
** Scorpion Tribunus II (and II+) ESC User Manual
** Scorpion Tribunus Heli Program Sproto
** Tutorial / WARNING about using ESC's with a Power Supply, or Long Battery Cables
** Scorpion V Link II Cable CH340 Driver (For all ESC use)
** Scorpion ESC USB driver (For all ESC with USB port use)
** How to update Tribunus firmware
** Using Tribunus with Futaba Telemetry Guide
** How to DIY your own Telemetry/setup cable for the Tribunus ESCs – Vbar NEO

Specifications
| | |
| --- | --- |
| Max Continuous Current | 130 Amps |
| Peak Current | 180 Amps |
| Operating Voltage Range | 14-52 Volts |
| BEC Output voltage: | 5.1V to 8.1V adjustable. |
| Max Continuous BEC Output | 10 Amps @ 8.1 V |
| Peak BEC Output | 30 Amps/1s @ 8.1 V |
| On Resistance | 0.7 mOhms *2 |
| Size | 75.3 x 44.3 x 26.3 mm (2.96 x 1.74 x 1.03 in) |
| Weight (Without Connectors) | 198 g (6.98 oz) |
| Size with Fan | 75.3 x 44.3 x 38.5mm (2.96 x 1.74 x 1.51 in) |
| Weight with Fan (Without Connectors) | 210 g (7.41 oz) |
| Drive frequency | 8kHz - 32kHz Dynamic Frequency |
| Cable gauge | 10 AWG |
| Fan Input Voltage | (5V - 8.1V) |
Weight including packaging
591g