New Released !!! A newest ESC Scorpion Tribunus 06-80A ESC SBEC!!
01.02.2019
Scorpion Tribunus Series have proven themselves by very successful from the pilot's feedback.
Now Scorpion just release a brand new Tribunes 06-80 ESC SBEC ! It is 6S HvLi ESC with built-in BEC keeps wiring clean, allows for easy setup, and is adjustable from true DC-DC 5.1V-7.1V BEC to power servos and receiver with 8A continuous and 12A pules! There's even room for a 25mm cooling fan to be bolted onto the ESC heat sink, and plugs directly into the side of the SBEC. With our new governor design, internal and external are also available. Built-in protection like current, voltage, temperature, capacity protection and more will keep your ESC and aircraft safe. Enjoy new features Morse code indications, Android apps support, telemetry, and even remote settings compatible with Mikado V Control and more. Why fly old technology when you can be the first person in town to use the latest and greatest!

With the new V Link II cable (Optional) supported by Windows 7,8 and 10, you can always keep your ESC updated with the latest firmware, and make changes to your settings with ease!
The newly updated programming software Sproto has been hugely improved upon, and makes setup and tuning easier than ever.
Weighing in at just 60 grams, this sleek, compact size for 400 class helicopter or below and airplane needs to help elevate your flying game. Don't be the last guy in your area to have this bold Tribunes 06-80A ESC SBEC from Scorpion Power System, order from your local deal today!​

MSRP:USD139.99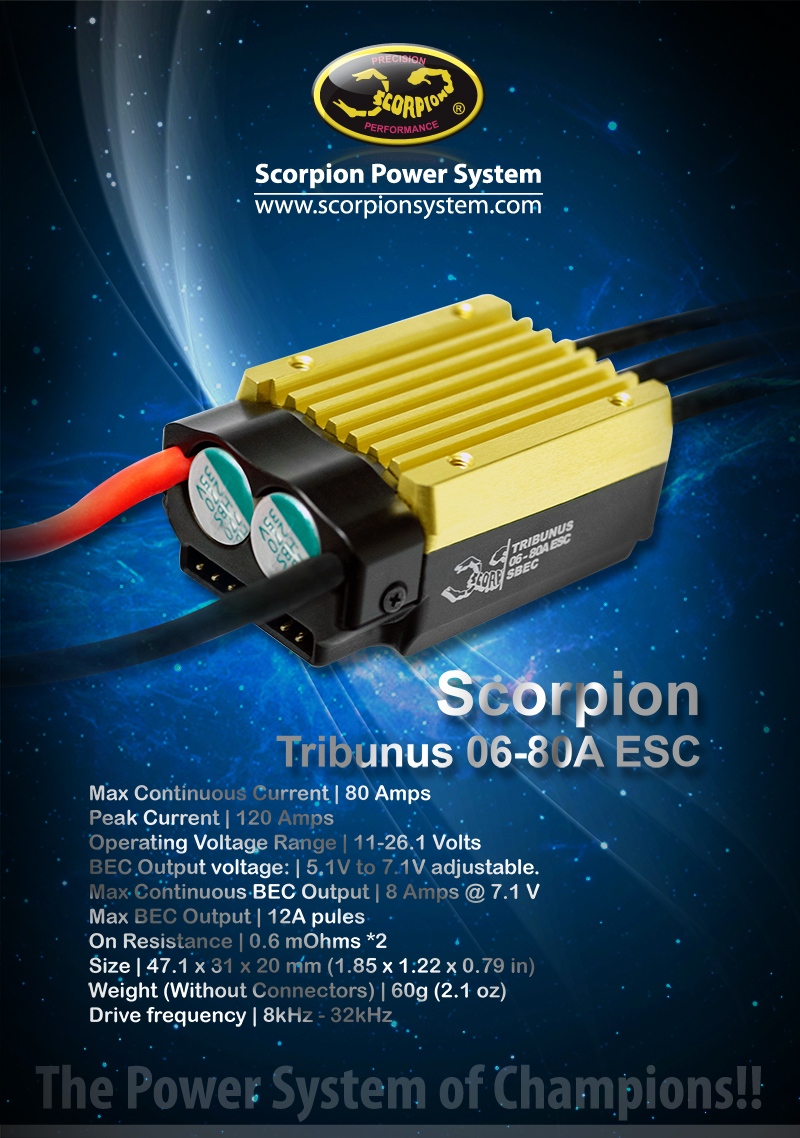 ** Scorpion Tribunus 06-80A ESC SBEC- User Manual
** Scorpion Sproto Program(V Link II cable driver not included)
** Scorpion V Link II Cable CH340 Driver (For all ESC use)
** How to DIY your own Telemetry/setup cable for the Tribunus ESCs – Vbar NEO
** Jeti Telemetry user guide